Lost manuscripts by composer Florence Price unearthed and published
3 March 2020, 14:09 | Updated: 2 February 2022, 11:49
Original manuscripts written by Florence Price, the first African American woman to have her music performed by a major symphony orchestra, have been uncovered.
Handwritten manuscripts by African American composer Florence Price have been unearthed and published. The unseen works, dating back to the early 1900s, were discovered by music publishing company G. Schirmer.
Price, the first African American woman to have her music performed by a major symphony orchestra, was innovative in her style of bringing together European classical tradition and the haunting melodies of African American spirituals.
Previously, there was only a very small amount of Price's music on recording.
Since the historic discovery, her Colonial Dance ("a brief and charming orchestral work") and Songs of the Oak ("a new and distinct orchestral piece") have been made available for hire and performance.
The third discovery – a new edition of her Piano Concerto in One Movement based on previously unseen orchestral parts – will be available in March 2020.
Read more: The inspirational life of Florence Price is one of the most important stories in music >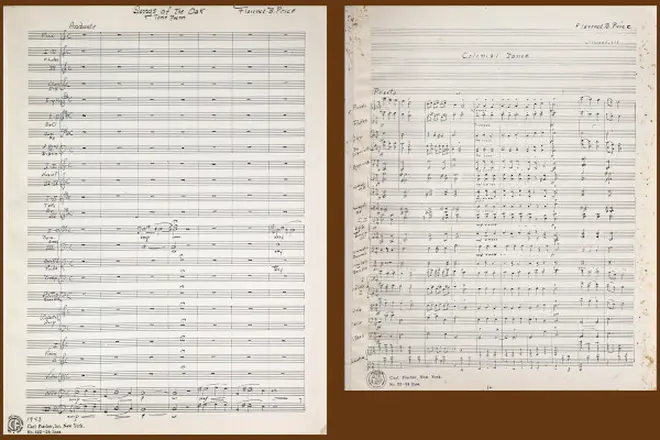 Following a 2018 New Yorker article detailing the discovery of manuscripts and papers in an abandoned house 60 miles south of Chicago, Schirmer located Price's family and undertook the publishing of the works.
In 2019, Schirmer discovered additional manuscripts, bought at auction by a private collector, in the same rural county where the first manuscripts were discovered in 2009.
The discovery has prompted a happy resurgence in popularity surrounding Florence Price's works, with her Violin Concerto No. 1 and 2, and Symphony No. 4 in D minor, proving particularly popular.
Schirmer says it is "honoured to make these three historic additions to the catalogue", highlighting that the finding has "helped ensure the legacy of an outstanding and often neglected composer".
To coincide with the published manuscripts, pianist Lara Downes has released 16 of Price's recently-discovered piano works – listen on Spotify here.