Ellie Goulding gets married, with music by The Royal Holloway Choir and composer Ola Gjeilo on her big day
5 September 2019, 17:40 | Updated: 6 September 2019, 10:55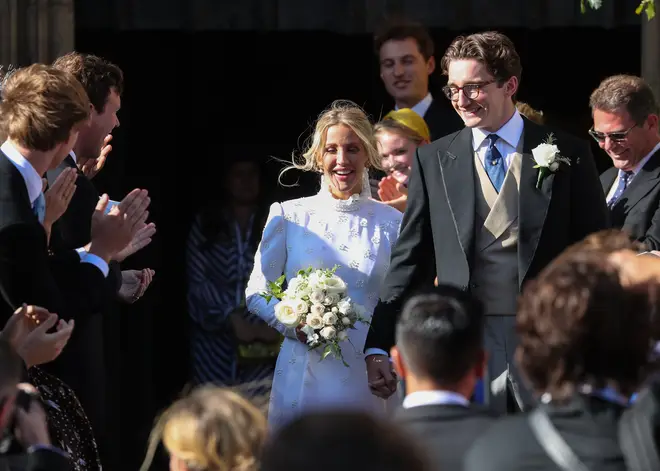 The presenter of Classic FM Revision Hour married Caspar Jopling at York Minster at the weekend with the accompaniment of beautiful music.
Ellie Goulding married her art dealer boyfriend Caspar Jopling last Saturday (31), in a lavish ceremony at York Minster.
As well as a reported four dress changes (yep, four), the Classic FM Revision Hour presenter invited a plethora of royals and A-listers (oh hey, Katy Perry, Orlando Bloom and Princesses Beatrice and Eugenie) to her big day, along with some fine musicians.
What music was played at Ellie Goulding's wedding?
Before the big day, there were reports of rumours that producer Diplo would be responsible for entertainment at Ellie's reception – after he "owed her one".
Among an array of wonderful guests on the actual day, the 12 ensemble, The Choir of Royal Holloway provided entertainment – and there was also music by Goulding's favourite composer, Ola Gjeilo, by all accounts.
With that, we say great choice – and congratulations on your beautiful big day, Ellie!
The choir had the pleasure of singing at the wedding of @elliegoulding and Caspar Jopling this weekend. We hope you both enjoyed your special day, wishing you a long and happy marriage! 👰🏼🤵🏻

Ellie is a fan of @olagjeilo's music, here is a snippet of his 'Sanctus - London'. pic.twitter.com/8oCEAsxkj9

— Royal Holloway Choir (@RHULChapelChoir) September 2, 2019
Who is Ola Gjeilo?
Ola Gjello is a Norwegian composer of choral music who has also released recordings as a pianist-composer. His music is performed all over the world and he has a penchant for improvisation.
Listen to some of Gjeilo's music below via Spotify.
What is The Choir of Royal Holloway?
The Choir of Royal Holloway, also known as the Chapel Choir, holds the reputation of being one of the finest mixed-voice collegiate choirs in the country. Led by Rupert Gough since 2005, the choir has released dozens of acclaimed recordings and performs regularly across the country, and Europe, at public, commercial and corporate events.
Find out more about The Choir of Royal Holloway at chapelchoir.co.uk.
What is the 12 ensemble?
The 12 ensemble is a string orchestra, directed by Eloisa-Fleur Thom (Principal Violin) and Max Ruisi (Principal Cello), noted for its dynamic performances premiering bold new works alongside great string repertoire.
Find out more about the 12 ensemble at www.the12ensemble.com.