Barcelona opera house reopens with a live audience of 2,292 plants
25 June 2020, 10:27 | Updated: 25 June 2020, 10:31
A string quartet serenaded the "growing" audience at the reopening of Barcelona's Liceu on Monday.
Spain, a country deeply rooted in live music traditions, is marking the return of classical concerts following coronavirus lockdown. But it wasn't members of the public who attended this first opera house showing…
Instead, the seats at the Gran Teatro del Liceu were reserved for the leaves, shoots and roots of an all-plant audience, or a "vegetable kingdom", as artistic director Víctor García de Gomar coined it.
The Uceli Quartet performed Puccini's single-movement 'Crisantemi' (Chrysanthemums) for the 2,292 potted patrons, the inspiration for which was a striking yellow flower.
The 'Concert for the Biocene' took place on Monday (22 June), and though the guest list was strictly limited to vegetation, humans still enjoyed the event via a livestream.
Barcelona's opera performs for a leafy audience
Read more: The concert halls and opera houses reopening after lockdown >
Eugenio Ampudia, the artist behind the concert, wanted to reflect the social effect that the confinement of lockdown has caused, across the globe.
We have become, Ampudia says on the Liceu's website, "a public deprived of the possibility of being public".
"At a time when an important part of humankind has shut itself up in enclosed spaces and been obliged to relinquish movement, nature has crept forward to occupy the spaces we have ceded," he told the Guardian.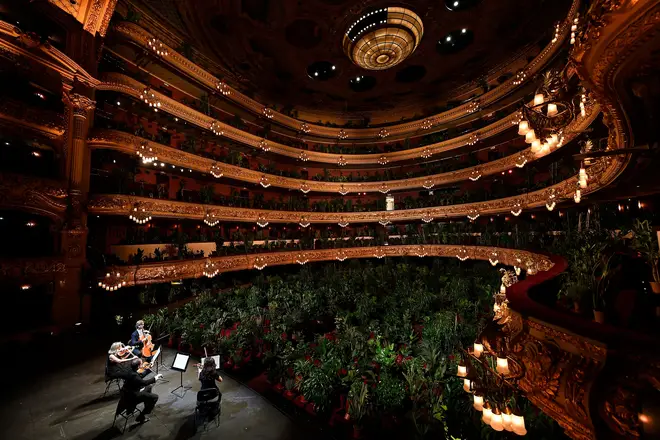 Read more: Honeybee queens sing 'duets' with each other, study finds >
Ampudia continues: "And it has done so at is own rhythm, according to its patient biological cycle. Can we broaden our empathy and bring it to bear on other species? Let's start by using art and music and inviting nature into a great concert hall."
All the leafy concert attendees have been donated to health workers following the event, to thank them for all their efforts during the pandemic.