Quarantined opera singers lead 'I Still Call Australia Home' anthem with Sydney residents on balconies
27 March 2020, 11:33 | Updated: 27 March 2020, 11:36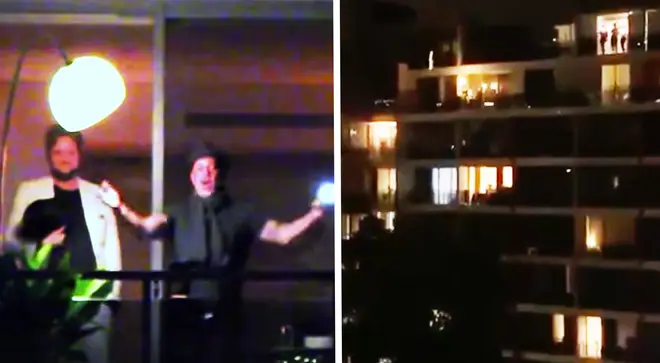 A tenor and baritone living in this Sydney apartment block may be in lockdown due to COVID-19 – but that hasn't stopped them from doing what they love.
Two quarantined opera singers in Sydney have lifted their neighbour's spirits by belting out the words to an Australian anthem from their balcony, amid the coronavirus pandemic.
The singers, tenor Tomas Dalton and baritone Tom Hamilton, are currently in lockdown and decided to use their incredible voices to spread some joy.
In the clip (watch below), we hear one of the musicians sing out the words, "but my heart lies waiting over the foam, I still call Australia home" high above the rooftops, as locals listen from their apartments.
The moving song, 'I Still Call Australia Home', was originally penned by Australian singer-songwriter Peter Allen – well known for his flamboyant persona and lavish costumes – in 1980, and has been used to signify the country's patriotism and nostalgia for home ever since.
Click here for the latest coronavirus advice from the NHS >
These Sydney locals aren't letting self-isolation dampen their spirits, joining together on their balconies for a rousing rendition of 'I Still Call Australia Home' - and lead by a professional opera singer who moved residents to tears. Video credit: Alexander Nicol. #7NEWS pic.twitter.com/BOaQpgMsoS

— 7NEWS Australia (@7NewsAustralia) March 25, 2020
And the song certainly has meaning for residents living in this Waterloo, Sydney apartment block, as they promptly join in with the operatic display and shine lights across the complex.
One of the homeowners said on Reddit: "Both men are members of Opera Australia's cast and have been in many operas around Australia and Europe.
"I'm glad they've found a way to still entertain while doing what they love during this uncertain time."
Read more: A&E nurses form choir, sing beautiful performance in tribute to overworked hospital staff >
Another added: "One of thems a friend of mine from high school days, been meaning to see a show of his up in Sydney, but guess that's gonna have to wait."
The impromptu performance ended when residents began chanting, "Aussie! Aussie! Aussie! Oi! Oi! Oi!".
The moving moment comes as many other self-isolating musicians around the world sing and play together from their balconies in a wonderful show of solidarity, as the coronavirus outbreak continues to unfold.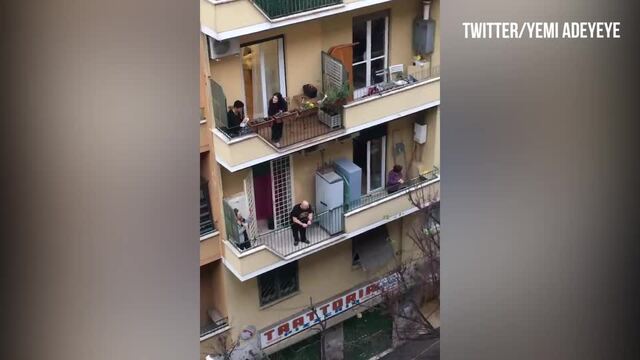 Italians play music from balconies to entertain each other during lockdown