Priest 'baptises' baby using a water pistol. What's the story behind the viral photo?
1 June 2020, 12:57 | Updated: 1 June 2020, 13:49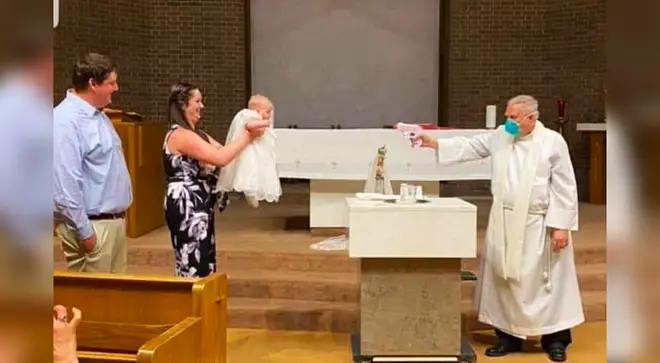 A viral photograph depicts a priest baptising a child using holy water from a toy water gun. But what really happened?
Among the plethora of social distancing-inspired pictures which swept the Internet last week, was a viral snap of a baby being baptised using a plastic water gun.
The photo showed a priest, named as Father Stephen Klasek, dressed in his robes and wearing a face mask as he baptised a child while maintaining a two-metre distance. Naturally, the picture went viral.
But the truth behind the photo has now been revealed...
... and it turns out the whole thing was staged for a little bit of fun.
Click here to view the NHS's latest coronavirus advice >
Read more: Priest blesses worshippers by squirting them with holy water in socially distanced service >
The Saint Mark Catholic Church in Manchester, Tennessee, revealed the real circumstances behind the photo on their Facebook page.
"The family had requested for him to do this pose as copied from several posts of priests circulating around the internet," the church explained. "He [Father Klasek] agreed because he thought it was funny."
The church also clarified that the water in the plastic gun was not holy water, and that it "was squirted towards the dad and not the baby for humour impact".
The staged shot, they concluded, was "meant to be for fun".
Read more: 'Portable priest' plays out Amazing Grace through London streets >
It's not the first time that a clergyman found a creative, yet safe, way of continuing worship amid the coronavirus pandemic.
In April Reverend Timothy Pelc, a priest in Detroit, blessed churchgoers with a water gun as worshippers remained in their cars from a distance.