Priest blesses worshippers by squirting them with holy water in socially distanced service
19 May 2020, 15:46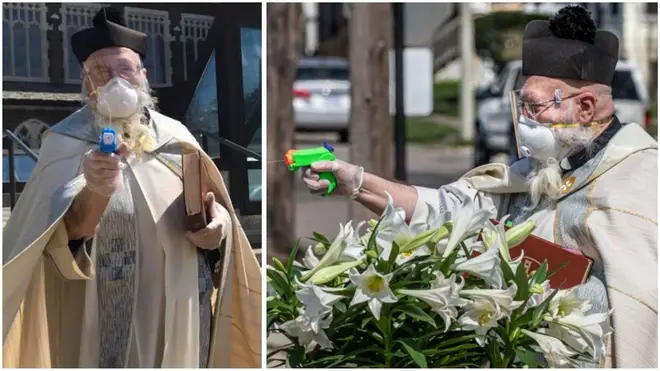 Where there's a will, there's a way…
Social distancing realities in Michigan, US: this priest is blessing churchgoers using a squirt gun filled with holy water.
Reverend Timothy Pelc, the priest at St. Ambrose Church in Detroit, wanted to find a safe way during the coronavirus pandemic to continue the tradition of blessing parishioners' Easter baskets.
"You can't double dip into the holy water container," Father Tim told TODAY. "I thought, what could I do that would keep the quarantine restrictions going and give kids the experience of Easter?"
The photos (see below) were taken five weeks ago during Holy Week and have since found new life on the Internet.
Click here for the latest coronavirus advice from the NHS >
To ensure his plans followed social distancing guidelines, Father Tim consulted a Detroit emergency room doctor beforehand. They both agreed that a water pistol was the safest mechanic, as it only needed to be filled once, with untouched, sterile water.
"He said, 'Not only is this safe, this is fun,' and he came with his kids," Father Tim said of his doctor friend. "He provided me with all the personal protection stuff that I needed. The sun was out. We had a nice turnout.
"It was a way of continuing an ancient custom, and people seemed to enjoy it."
Read more: 'Portable priest' plays out Amazing Grace through London streets >
Father Tim himself wore a face mask, shield and gloves, as he waited in the church car park for worshippers to drive by, ready to be greeted with a cooling spritz of holy water.
It was Pelc's aim, above all, to help kids have a nice Easter amid the pandemic and ensuing restrictions.
"They all squealed in delight," he said. "Part of what I do is help make memories for the future."
Since Father Tim wowed the world with his unique holy water squirt gun, he has quickly become a meme thanks to some tongue-in-cheek photoshopping.
Father Tim told Buzzfeed he thinks the photos went viral online because not only are they fun, they've also provided a welcome lift in spirits for those feeling a sense of hopelessness during the current crisis.
"It was a good news story and people were in the mood for something like that," he said.