Beautiful organ music at Salisbury Cathedral's COVID-19 vaccination centre is now an album
29 March 2021, 16:00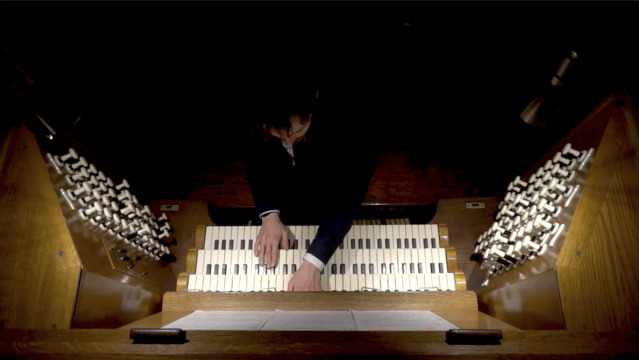 Since January, coronavirus vaccines at Salisbury Cathedral have been accompanied by an unexpected Bach-ing track. Now, you can hear that soothing organ music at home.
When the coronavirus jab started to roll out across the UK in January, vaccination centres were popping up in a few unexpected places – including the historic Salisbury Cathedral.
And to calm those having their jab, the cathedral's organists played out some beautiful music.
Now, an album of that music is being released.
Back in January, organist John Challenger caught the music world's attention with a tweet saying he "would be playing Handel's Largo and much more great organ music" as the 800-year-old building became a vaccination hub.
His colleague David Halls, who has been playing at the cathedral since 1985, then told The Times he had been playing Bach's 'Jesu, Joy of Man's Desiring'. He said: "We've tried to provide something serene and soothing, and it's been a privilege to take part. People have been really listening. We've even had applause."
In the video above, Challenger can be heard "pulling out the stops" on the cathedral's 19th-century Father Willis organ, helping to make the experience feel less daunting for all those receiving the vaccine.
Read more: Elgar's 'Nimrod' played on Asia's largest pipe organ is life-affirming musical experience >
"This is the place where day by day prayer is offered for the healing of the city, for the healing of the nation. To be able to come here today to receive these lifesaving vaccinations, I'm just overjoyed that we can play our part in this," the Very Rev Nicholas Papadopulos, Dean of Salisbury, told ITV News.
The interest in these musical interventions was such, that it gave those at the cathedral and music department an idea. Why not share the gift of music at this time beyond the cathedral walls?
And the release 'Salisbury Meditation' was born.
The charity album consists of sixteen classical favourites, played by John Challenger, the Cathedral's Assistant Director of Music, with 75 percent of the proceeds going to NHS Charities Together. What a great thing.
Truly music to calm, support, to bring us all closer together, as well as to be thankful.
You can get your copy of 'Salisbury Meditation' here.