Edinburgh Fringe Festival cancelled for first time in history
1 April 2020, 12:49 | Updated: 1 April 2020, 12:51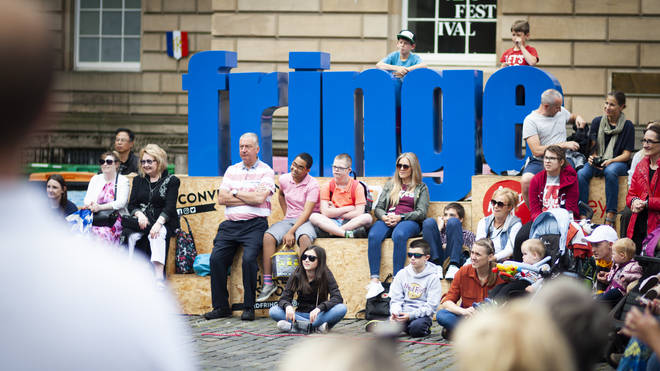 All Edinburgh's arts and culture festivals have been cancelled, due to concerns around the COVID-19 pandemic.
For the first time in over 70 years, Edinburgh's Festival Fringe will not go ahead this year, due to concerns around the coronavirus pandemic.
The world's biggest arts festival has been cancelled alongside Edinburgh's four other August festivals – the Edinburgh International Festival, Edinburgh Art Festival, Edinburgh International Book Festival and the Royal Edinburgh Military Tattoo.
Together the five festivals bring in 4.4 million tourists every year and over 25,000 artists, writers and performers from 70 countries, making them one of the world's biggest cultural events – second only to the Olympics. The "unavoidable" decision to cancel was made alongside the Scottish government and Edinburgh City Council.
In a statement, Fringe Society Chief Executive Shona McCarthy said: "It's heart-breaking that the Fringe and our sister August festivals will not take place as planned this summer. However, having taken advice and considered all the options, we collectively believe this is the only appropriate response.
"The safety of participants, audiences, local residents and indeed everyone connected to our festivals will always come first. Our thoughts today are with the doctors, nurses, health and social care professionals on the front line, as well as all those affected by this dreadful pandemic. Our sympathies too are with the thousands of artists and participants directly affected by today's decision – we will do everything we can to support you over the coming months."
Click here for the latest coronavirus advice from the NHS >
"Culture brings out the best in us," McCarthy continued. "It gives the marginalised a voice, it shapes and reshapes how we think of ourselves and, crucially, it unites us. Since their inception in 1947 the Edinburgh festivals have existed to champion the flowering of the human spirit and, in the face of this truly unprecedented global emergency, we believe that this spirit is needed now more than ever."
The city's original arts festival – the Edinburgh International Festival – was founded in 1947 in the wake of the Second World War, as a way to reconcile and unite people through art in a divided time.
Read more: Watch an exclusive broadcast from Edinburgh International Festival >
Every year since its dawning, the EIF has welcomed leading figures from the classical music world including conductor Gustavo Dudamel and the LA Philharmonic, violinist Nicola Benedetti and conductor Sir Simon Rattle.
EIF director Fergus Linehan said in a statement: "The Edinburgh International Festival was born out of adversity – an urgent need to both reconnect and rebuild. This current crisis presents us with a similar sense of urgency. Work begins straight away on a 2021 Festival that will boost both our spirits and our economy.
"As we observe our essential social distancing we can, I hope, look forward to being back together soon: sharing beautiful musicianship, brilliant acting and exquisite dance from the greatest creative minds of our time."
More than three million people attended last year's Fringe, which is the biggest event of the year for many artists. It's the latest in a line of cancellations, including Glastonbury Festival and numerous cultural and classical music events including Yuja Wang's European tour and all performances at London's Royal Opera House and New York's Met Opera.