Orchestra teams up with UK charity to highlight climate emergency
6 February 2020, 13:22 | Updated: 6 February 2020, 14:25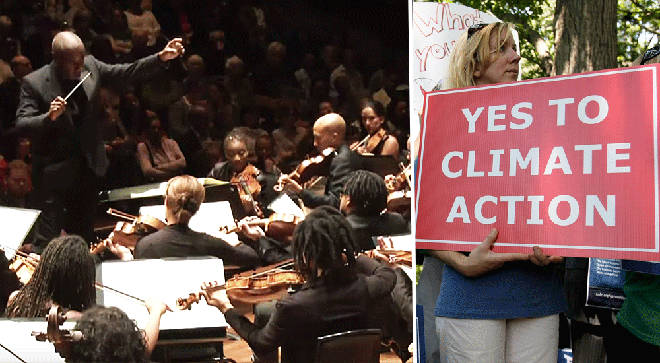 Climate change has had devastating effects on some of the world's poorest communities – and now, Chineke! and Christian Aid have come together to highlight that with a new orchestral work.
British orchestra Chineke! and UK charity Christian Aid are collaborating on a new orchestral work to raise awareness around the current climate emergency.
The charity, which celebrates its 75th birthday this year, has commissioned the talented ensemble – Europe's first majority-black and minority ethnic orchestra – to write a 12-minute piece of music using the theme of climate catastrophe.
Over the past few decades, extreme weather has had devastating effects on some of the world's most poverty-stricken areas, making it harder for thousands of people to recover from failed harvests, destroyed homes and health crises.
Swedish teen activist, Greta Thunberg, has helped wake the world up to the pressing concern of climate change with her powerful speeches, and has since been nominated for the 2019 Nobel Peace Prize.
Now, the climate emergency will be highlighted in a unique musical work, 'Song of the Prophets: A Requiem for the Climate', which will be structured in four movements: Creation, Ruin, Recovery and Redemption.
Read more: This one-minute climate change symphony shows the terrifying impact of global warming >
Chineke! Orchestra plays Sibelius' Finlandia

Meet Chineke! Orchestra – a classical music ensemble made up entirely of black and minority ethnic musicians. – and you can hear them live this Sunday at Southbank Centre playing music by Dvořák, Haydn, Sibelius and Chevalier de Saint-Georges: http://classfm.co/1tUmho

Posted by Classic FM on Friday, 2 September 2016
Premiering at St. Paul's Cathedral, London on Wednesday 20 May, the composition is inspired by Song of the Prophets: a global theology of climate change – a paper released by Christian Aid in 2014.
In the paper, Susan Durber, Theology Advisor at Christian Aid, writes: "From the global South, we hear the very clearest insights into the urgent situation facing us all and a challenge to do something before it is too late. We are reminded that we need to press on for climate justice."
The reminder makes Chineke!'s forthcoming musical performance all the more significant, and it will be taking place shortly after Christian Aid Week 2020 (10-16 May) – an annual fundraiser to help those most affected by the climate emergency.
Amanda Khozi Mukwashi, CEO of Christian Aid, said in a statement: "Christian Aid has been campaigning on the devastating effects of climate change for the world's poorest people for over a decade. Throughout 2020, our Climate Justice campaign is drawing attention to the urgent action needed on this global crisis.
"Climate change is having a devastating impact on every area of life in some of the countries in which Christian Aid works – from basic needs such as food and shelter, to issues such as education and women's rights. The pervasive impact on everyone – and particularly those in the communities in which we work – means the world can no longer ignore it."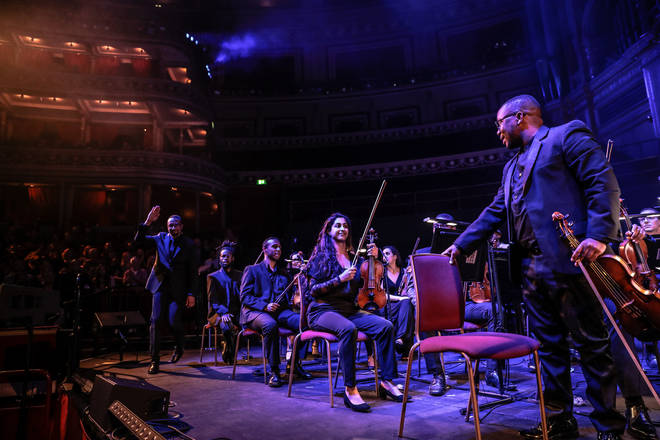 Chineke! was set up in 2015 to provide career opportunities to exceptional classical musicians in the black and minority ethnic communities in the UK and Europe, and prides itself on celebrating diversity within the genre.
Chi-chi Nwanoku OBE, founder of Chineke! said: "We're thrilled to be working with Christian Aid on this project. Their vision of dignity, equality and justice for all living in extreme poverty around the world – no matter their faith – is an inspiring one.
"As someone of Nigerian and Irish descent, I recognise the stark inequalities that exist between the richest and poorest globally and want to do my bit to help. We are excited by Christian Aid's creativity and vision to rally people together to stop the climate crisis."
Free tickets for Song of the Prophets: A Requiem for the Climate are now available on the Christian Aid website.