Cellists protest British Airways check-in issues by playing an impromptu concert
14 October 2019, 14:29 | Updated: 14 October 2019, 15:21
To ease their frustrations with technical issues at Basel airport, these cellists protested in the only way they knew how – by performing an impromptu concert at the check-in desk.
Six cellists were on the way back to the UK from Switzerland, when two of the players were unable to board their British Airways flight due to technical issues.
Peter Gregson, Gabriella Swallow, Ashok Klouda, Adrian Bradbury, Ben Chappell and Tim Lowe had been in Switzerland for Gregson's Bach Recomposed project last Friday (11 October).
But when they tried to return home, they were met with technical problems at Basel airport – and their response was to protest through their music.
Read more: This guitarist's handmade instrument was 'destroyed by an airline' >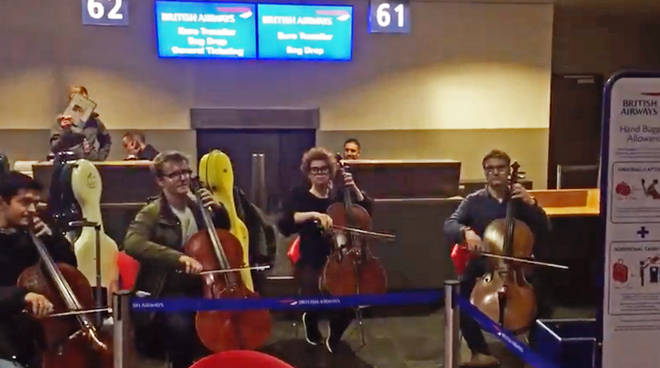 "We left at 4am today for our flight home, arrived at the airport at 5.15 in plenty of time for the 7.20 flight," Gabriella Swallow told The Strad.
"All of us this time had the same 'computer says no' issues but the workers here at Basel Airport don't work directly for BA, and despite doing their best so struggled to resolve things. Ashok and I weren't allowed on the flight as they said ours was a different issue."
Four of the six cellists were able to travel on the original flight, leaving the other two at the airport.
In protest, members of the group gave airport staff and fellow passengers an impromptu performance in front of the British Airways check-in desk.
After spending over seven hours in the airport, Klouda and Swallow did eventually make it back home to the UK after BA rebooked them onto a later flight.
In an email to Classic FM, the airline said: "We have apologised to our customers for this technical error. We provided them with lounge access and rebooked them to fly home a few hours later."