Botched artwork restoration in Spain leaves the Virgin Mary utterly unrecognisable
23 June 2020, 14:58 | Updated: 24 June 2020, 09:42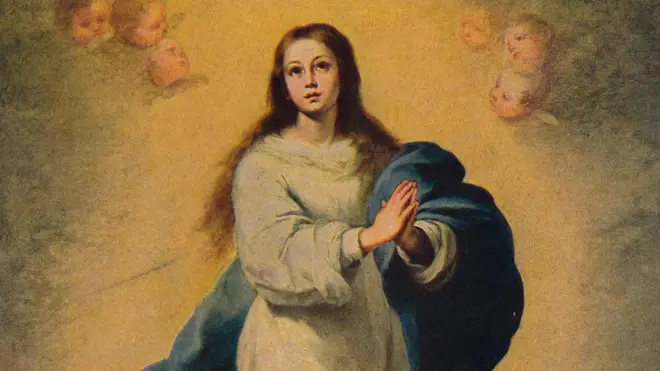 This not-so-immaculate conception of Murillo's masterpiece is less Michelangelo, more "my hands are like jello"...
Botched artworks don't come much more disastrous than this.
Bartolomé Esteban Murillo's Immaculate Conception has been 'restored' by an unnamed restoration company in Valencia, Spain, for the reported price of €1,200 – and the results are unrecognisable.
The Baroque painting's private collector apparently handed it over to be cleaned, and it came back completely altered, with the Virgin Mary's face all but replaced. Another attempt was made to restore it back to its original glory, but that made things even worse.
The botched job is reminiscent of the incident in 2012 when a well-intentioned restorer attracted attention worldwide with an attempt at restoring a painting of Jesus on the wall of a Spanish church, now dubbed "Monkey Christ".
And a similarly ill-advised restoration in Spain – one of a statue of Saint George – was fixed last year.
Read more: A pair of glasses were left on a gallery floor and mistaken for art >
The unrecognisable Virgin Mary has led art experts in Spain to call for a tightening of laws around art conservation, to protect precious works.
A lot of these botched jobs only come to experts' attention when they're shared online and on social media, meaning that there's a chance they could be going unnoticed in some instances.
María Borja, a representative of the Professional Association of Conservative Restorers of Spain (ACRE), explains in Europapress that incidents like this are "unfortunately much more frequent than you think" and says "there are a multitude of situations where the works are intervened by people without training".
According to Borja, there is no legislation in place that requires specific skills or qualifications to restore historic works of art, so heritage laws do not protect paintings.
Speaking to The Guardian, professor at Galician School for the Conservation and Restoration of Cultural Heritage, Fernando Carrera, has said: "I don't think this guy – or these people – should be referred to as restorers. Let's be honest: they're bodgers who botch things up. They destroy things."
For today's #RAdailydoodle, who can do a better job at restoring this copy of baroque artist Bartolomé Esteban Murillo's 'The Immaculate Conception of Los Venerables'?

(you can also start from scratch) pic.twitter.com/TXphAJr4JG

— Royal Academy (@royalacademy) June 23, 2020
Read more: National Gallery workers are recreating famous artworks to make quarantine bearable >
He points out that the current laws in Spain actually allow anyone to "restore" art, regardless of their proven skill.
"We see this kind of thing time and time again and yet it keeps on happening.
"Paradoxically, it shows just how important professional restorers are. We need to invest in our heritage, but even before we talk about money, we need to make sure that the people who undertake this kind of work have been trained in it."
He feels the problem lies in law-makers and politicians in Spain not always necessarily caring about art or heritage.
"We need to focus society's attention on this so that it chooses representatives who put heritage on the agenda," he said.
"It doesn't have to be at the very top because it's obviously not like healthcare or employment – there are many more important things. But this is our history."