Accordonist Giancarlo Palena wins The Sir Karl Jenkins Music Award 2019
2 April 2019, 18:02 | Updated: 18 February 2020, 16:52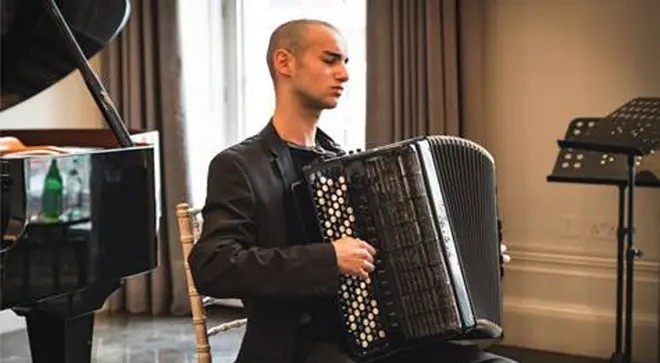 The prestigious Sir Karl Jenkins Music Award has been won by Italian accordionist Giancarlo Palena following a final held at The Arts Club
The Italian accordionist Giancarlo Palena has been named the winner of the 2019 Sir Karl Jenkins Music Award in Association with The Arts Club and Classic FM.
The accordionist won the prestigious award after impressing a panel of judges – chaired by Sir Karl Jenkins and including Classic FM presenter Catherine Bott – with his performance of Scarlatti's Sonata K. 551, 'Air' from Grieg's Holberg Suite and the fourth movement of Zubitsky's Carpathian Suite.
Along with a cash prize of £4,000, Giancarlo will now have the opportunity to record a piece written specially for him by the Welsh composer, as well as one of the pieces from this winning recital.
Palena's recording will then be played on Classic FM.
South Korean violinist SongHa Choi was runner-up in the competition, winning a cash prize of £1,000. The other finalists included harpist Oliver Wass, trumpet player Tom Nielson, and bassoonists Nicolò Biemmi and Ashby Mayes.
J. S. Bach - French Suite No. 5 in G Major, BWV 816 - Giancarlo Palena (Classical Accordion)
Alongside Sir Karl and Catherine Bott on the judging panel were music educationalist Carol Barratt, Chairman of City Music Society Leslie East, Managing Director of Decca Classical Label Group Dr Alexander Buhr and harpist Catrin Finch.
In his mission statement for the Award, Sir Karl said: "My award, in conjunction with The Arts Club and in association with Classic FM, has been created to acknowledge and celebrate the classical musicians of the future.
"I was privileged to have studied at grammar school, university and the Royal Academy of Music at a time when music education, including instrumental tuition, was free to all. This is no longer the case and it frustrates me that recent governments, of all persuasions, have failed to invest in the musical future of our society.
"I am therefore more passionate than ever about championing young musicians and ensuring that great talent is given an opportunity to shine."
A total of 12 instrumentalists aged 18-25 were selected to compete in the first live competition round, which took place on Saturday 23 March. Six musicians then went on to perform in the final on Saturday 30 March at The Arts Club, London.
Speaking about the Award, the Club's Director of Music, Susanna Warren, said: "The standard of players in this competition was the highest yet, and Giancarlo Palena's performance on the accordion was astonishing! We are so proud to have the support of Sir Karl Jenkins, the most performed living composer, and to give the potentially career-changing opportunity to so many talented young instrumentalists."