Why is classical music played on the tube?
9 July 2020, 13:47 | Updated: 9 July 2020, 13:49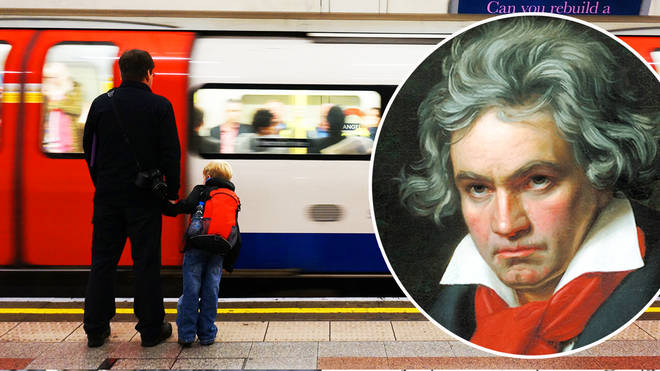 Turns out a Beethoven masterpiece may be the perfect soundtrack for your travels (or at least when going underground, that is)...
If you've ever taken a trip to London and travelled by tube, you may have noticed the soothing sound of classical music playing overhead.
Whether you've caught a few bars of Schubert's 'Unfinished' Symphony thanks to engineering works delays, or enjoyed a spot of Tchaikovsky while walking along the platform, music from the great composers is increasingly being heard underground (and don't we just love it).
With 65 of the capital city's 270 stations now on board with the idea, what exactly has sparked this new trend?
Well, despite the tube often being a noisy hub for busy commuters, the scheme was launched by TfL (Transport for London) to give our happiness and wellbeing a much-needed boost.
Read more: This is why fast food restaurants play classical music at night >
Previously, TfL played popular classical melodies only in certain zones to deter antisocial behaviour, which apparently did the trick.
Set up in 2007, the bright initiative cut robberies by 33 percent within 18 months, assaults on staff by 25 percent, and vandalism by 37 percent – with Elm Park on the District Line the first tube station to test the scheme.
Since then, it's been implemented across the network – and with the likes of Pavarotti's powerhouse voice included on the 40-hour playlist, it's a pretty fail-safe method for boosting our moods.
Read more: Classical music boosts mental health and wellbeing in isolation, study shows >
At Kilburn Park Underground Station, it seems one person particularly enjoyed Handel's 'The Arrival of The Queen of Sheba' (watch video above).
Meanwhile, another YouTuber captured the moment classical music was played at Manor House:
Similarly, north London police were inspired to play classical music in problem areas to reduce crime – with constable Adam Weber informing Classic FM that "incidents of verbal and physical abuse fell" during the initial scheme.
And in the hospitality industry, several fast food restaurants such as McDonald's have been known to treat their customers to a spot of Chopin and Debussy at night, to create a calming atmosphere and encourage more acceptable conduct.
As for the tube – if a rush hour symphony is on the cards, we're all for it.