A robust music theory analysis of Ariana Grande's 'thank u, next'
10 December 2018, 19:44 | Updated: 10 December 2018, 21:42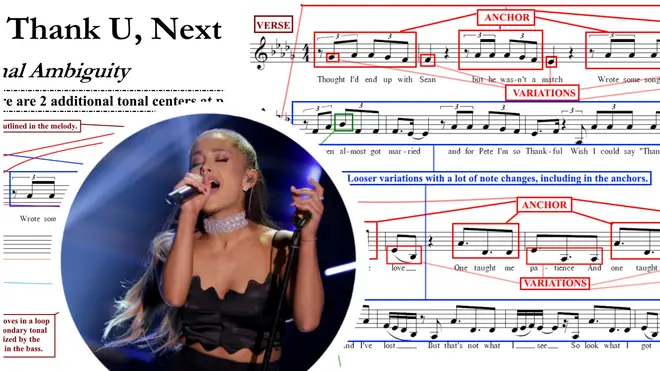 One of the pop world's biggest hits of 2018 – and a music geek has explained exactly why it creates the mood it does.
Ariana Grande's latest single is pretty popular. In fact it broke YouTube records when it was released, becoming the first video to reach 1 million views in less than 34 minutes, and is still sitting at the top of the charts. In the song Grande reflects on previous relationships.
Meanwhile, on Facebook Top40 Theory is a page doing the valuable service of putting today's pop hits under the music theory microscope. Here's what they have to say about this one.

One of the first things that strikes you about this song is the unexpected chromaticism in the bass: G flat, A, B flat, C flat. This creates a huge amount of character and tension.

The song is written in the key of D flat, and according to Top40 Theory, the D-flat melody line "is pulled towards two additional tonal centres", creating a tension and a feeling of being away from your harmonic home.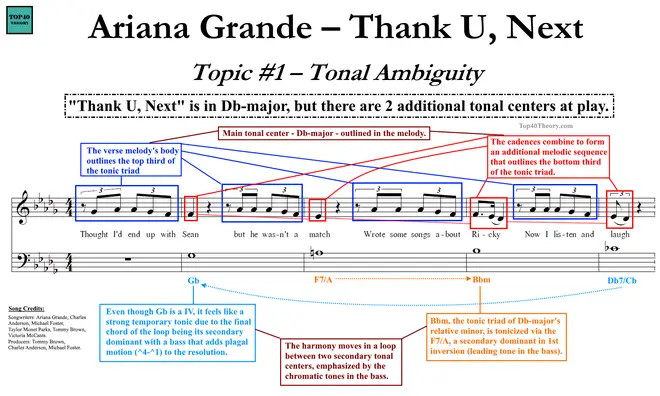 Unsettled, uneasy, uncomfortable harmony – and this is a song talking about painful previous relationships. Now that's smart.
Top40 Theory also note "melodic similarities between the verse and pre-chorus". Does this help add to the mood of searching, alongside the ambiguous harmony? We'll let the listener decide (but it's all very interesting)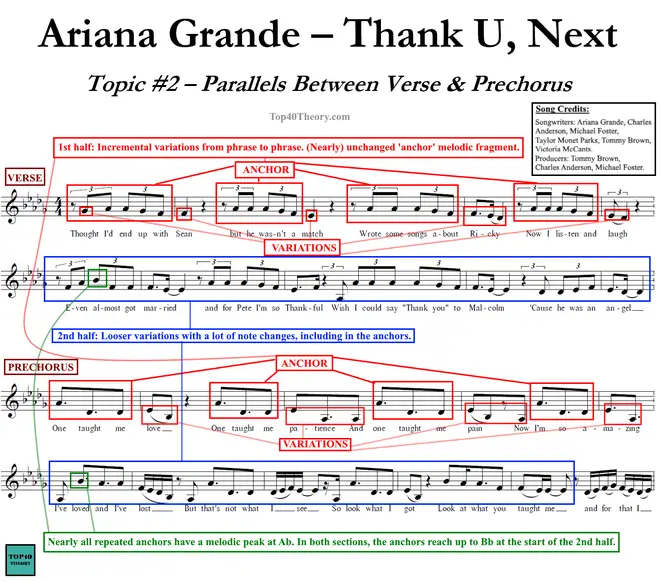 Of course, you don't need a geeky harmonic analysis to tell you how a song makes you feel. But it's always interesting to find out what's going on under the bonnet of a song. And composition aside, we're big fans of her voice too.
Thoughts on this analysis? You can join the conversation on Top40 Theory's website or Facebook posts (and be sure to give them a like too)
Ariana Grande's "Thank U, Next" is in Db-major but the harmony doesn't actually 'let it' be in that key and pulls it toward two additional tonal centers.

Posted by Top40 Theory on Tuesday, 6 November 2018