10 most beautiful and calming pieces of classical music for babies
19 July 2023, 08:57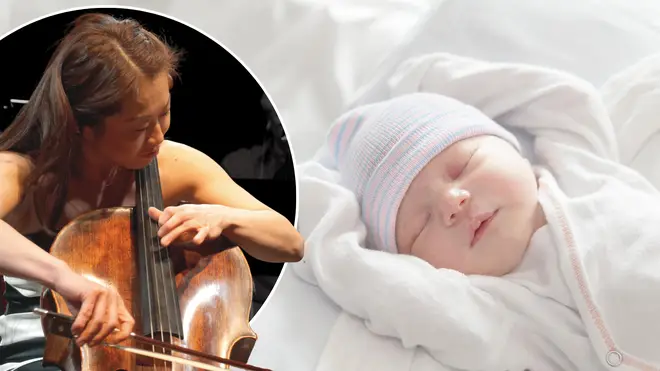 From the Mozart Effect to music for sleep – here are the 10 best pieces of music to soothe and entertain little ones, and relax their weary parents.
What's the best music for babies? For years, classical music has been recommended as a way to calm little ones, and also engage and stimulate the mind. Whether it's for sleep, cuddles or play, we recommend putting on some Bach, Mozart, or a favourite relaxing classical playlist.
Here are our top ten recommendations for classical music for your baby, and some of the reasons why.
Listen to Classic FM's Calm Piano live playlist on Global Player >
Johann Sebastian Bach – Goldberg Variations

There's a wonderful legend to this incredible piece of music. An early Bach biographer tells of how the Goldberg Variations were composed for an insomniac member of the Saxony aristocracy, to help calm and entertain him during sleepless nights.

As the title suggests, the hour-long piece is structured as variations. After the gorgeous 'Aria' opening, 30 mini-fantasies follow as Bach's music lulls, dances and comforts. The steady rhythm and flowing counterpoint of Bach's writing and the constant timbre of the piano or harpsichord makes it perfect for baby's mind, whether played to them during an active day or through those long (hopefully not too sleepless) nights.

Read more: 10 best pieces of music by Bach

Lang Lang plays Bach's joyous Goldberg Variations

Allegri – Miserere

While in the womb, we know babies listen to the tone, pitch and rhythm of their mother's voice, and the sounds of the not-too-far-away devoted dads. This accounts for why babies are drawn to, and comforted by, the sound of the human voice long after they enter the world.

So what better listening than music of the voice, and the choral masterpieces of the Renaissance era? Their long, sonorous vocal lines and interweaving melodies create the perfect environment for warm reassurance and comfort.

Put on any Palestrina, Victoria or Tallis from the Voices of Classic FM, The Sixteen. But for absolute choral comfort, try Allegri's Miserere, which mixes full choir, the rhythm of plainchant, and those famous, heavenly top Cs that would have rung through the Sistine Chapel 400 years ago.

Miserere mei, Deus - Allegri - Tenebrae conducted by Nigel Short

Mozart – Piano Concertos

The 1990s saw studies, books and a huge amount of interest in what became known as 'The Mozart Effect' and the power of Mozart's music – particularly his piano concertos – to temporarily boost IQ and produce other beneficial effects on mental function. This led to lots of interest in playing the composer's music to little ones.

Although the research has been thought to be a little inconclusive by today's standards, there's still no doubting the beauty and power of Mozart, for both heart and mind.

Read more: 10 best pieces of music by Mozart

Hélène Grimaud – Mozart: Piano Concerto No. 23: II. Adagio

Chopin – Noctures

In the piano music of Frédéric Chopin, you're always guaranteed a beautiful melody, rich harmony and his unique, irresistible pianistic flourishes.

In his Nocturnes, the Polish composer is in a late-night mood. The warm, solo piano sound and Chopin's improvisational writing makes for a beautiful musical embrace, perfect for babies to relax and drift off to. These beautiful works playing throughout the house will be a comfort to parents too.

Read more: 10 best pieces of music by Chopin

Bruce Liu – Chopin: Nocturne in C Sharp Minor, KK IVa/16 (WPD perrformance)

Arvo Pärt – Spiegel im Spiegel

This modern classic from Estionian composer Arvo Pärt has a tender, hypnotic mood that will be sure to enchant your little one.

The title of this piece literally means 'mirror on mirror' as the slow music ascends and descends in very simple reflective beauty.

Arvo Pärt is often known for the bell-like quality of his music. Don't worry, there's no campanological clamour here, but more a softly-swaying wind chime.

Renaud Capuçon plays Arvo Pärt: Spiegel im Spiegel (with pianist Guillaume Bellom)

Max Richter – Sleep

Contemporary composer Max Richter's modern, inventive and contemplative music is huge on TikTok and the small screen. He also wrote this profoundly beautiful, eight-hour lullaby, Sleep.

The slow, evocative work is set for piano, strings, voice and electronics. Richter worked closely in consultation with American neurologist David Eagleman, exploring the effect music has on subconscious minds.

Richter's score uses a gentle rhythmic pulse, repeated, slow-moving motifs, and undulating textures to guide listeners into a state of sleep and semi-consciousness, with uncommon beauty.

So if the title of this piece names something that may be hard to come by, for both baby and parents, Richter is here to help.

Max Richter - Dream 3 (in the midst of my life)

Clara Schumann – Piano Trio

This work for a trio of instruments was written by the composer-pianist in 1846. These lush, charming movements showcase Clara's lyricism and invention in writing. It was composed at a time when Clara and Robert Schumann were beginning their family.

Violin, cello and piano have an intimate sonority together, perfect for a soft mini-concert in baby's nursery.

Clara Schumann Piano Trio in G minor Op 17 (Mvt 1) // Friday Lunchtime Concert

Bach – Brandenburg Concertos

All of Johann Sebastian Bach's incredible music is perfect for babies. His pieces have a steady pulse, close to that of a human heartbeat, and interweaving lines that dart in and out of the musical texture, in a way that fascinates the ear and stimulates the mind.

But Bach's music is hugely entertaining too, and these concertos offer a huge array of instruments and sounds to keep little ones stimulated as well as calm.

Bach - Brandenburg Concerto no. 5 in D major BWV 1050 - Sato | Netherlands Bach Society

Beethoven – cello sonatas

These delightful works are full of life and musical colour, with a wonderful dialogue between cello and piano. They are some of the classical composer's most charming works.

But do little ones like these sonatas? We'll let the daughter of star cellist Guy Johnston answer that for you...

Novák – 'At Church'

Vítezslav Novák Slovak Suite was inspired by the songs and folk tunes that he heard while travelling through the Moravian countryside.

This opening movement At Church is a firm favourite, painting a calm countryside scene, with magnificent use of the organ towards the end.

This beautiful Novák is the sort of piece you can hear every evening on Classic FM, on Smooth Classics and Seven with Zeb Soanes on weekdays and Charlotte Hawkins on Sundays, and on Calm Classics with Ritula Shah, and Myleene Klass on weekends.