Glastonbury could have been a classical music festival – here's why
24 June 2019, 16:23 | Updated: 26 June 2020, 16:11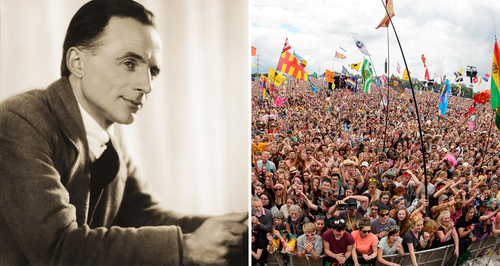 Never mind the rumours about who's headlining the (virtual) Pyramid Stage – imagine an alternative reality where a Glastonbury line-up includes Elgar and Purcell...
By Rob Weinberg
Over a hundred years ago, on 5 August 1914, an important new event in Britain's cultural and artistic life got under way.
In the historic Somerset town of Glastonbury, an eclectic mix of eccentric Bohemians and local people gathered at the barn-like Assembly Rooms to see an opera.
The work they had come to see was The Immortal Hour by English composer Rutland Boughton (pictured), and there would be other plays, dance performances, courses and song recitals to enjoy in the days to come in what was the original Glastonbury Festival.
Who was Rutland Boughton?
Boughton was an accomplished composer, teacher, choral conductor and impresario who, even as a boy, had directed his own children's orchestra of penny-whistles and home-made zithers.
A committed socialist, Boughton held a passionate belief in the power of music to encourage new thinking. He wanted to bring together local people with professionals to create productions that would entertain and enlighten, that he believed could change lives.
























What was the 'original' Glastonbury Festival?
In this respect – and inspired by the vision that Wagner had realised at Bayreuth – Boughton dreamed of establishing a national annual summer festival in Glastonbury and hoped that a permanent group of artists would also share in the duties of running an associated farm.
The farm component regrettably never materialised but Glastonbury became the perfect venue for the festival. Boughton, like Wagner, was an avid enthusiast for the King Arthur and Holy Grail myths, the influence of which permeate the town and its surrounding countryside.
A popular aria from Rutland Boughton's The Immortal Hour:
























What could a classical Glastonbury Festival line-up look like?
Boughton envisaged creating a Wagnerian-scale cycle of operas based around the Arthurian legends but, in his socialist version, the story would end with a peasant's revolt.
The composer launched an appeal to build a temple-style theatre to seat more than 1,200. He was supported in this by the likes of the conductor Sir Thomas Beecham, Gustav Holst, and George Bernard Shaw.
Elgar promised to come along and lay the foundation stone while Sir Thomas would provide his own orchestra.
But the build up to, and ensuing privations of, the First World War resulted in a much reduced approach: a grand piano replaced Beecham's orchestra and the Assembly Rooms became the not so hospitable setting for the event for its 12-year existence.
Deprived of a full orchestra, the artistic team was compelled to dream up a range of imaginative visual and choral devices. The Glastonbury Chorus could morph variously into an ocean or a fortress, providing a living backdrop to the performances.

GALLERY: In Remembrance of Great Composers >
While Boughton's works dominated the festival programme each year, other items were also on offer – by contemporary English composers, and even Henry Purcell, whose opera Dido and Aeneas received its first 20th century performance at the festival.
What else was on offer at Rutland Boughton's Glastonbury Festival?
A more permanent extension of Boughton's aim was the Glastonbury Festival School, which offered tuition in different aspects of music and drama and gave local people the opportunity to prepare more effectively for their seasonal performances.
Avant-garde dance was taught to local schoolgirls with the intention of 'awakening their political consciousness', much to the consternation of their more conservative parents.
When George Bernard Shaw attended the 1916 festival, he praised everything he saw. "There was far less to suffer and far less to excuse and allow for at Glastonbury than at the usual professional performances," he wrote, "In some vital respects it was a better performance than Sir Thomas Beecham could have afforded in London."
After the First World War ended, increasing numbers of professionals recognised the benefit of being part of Glastonbury. While the chorus of the productions remained local and amateur, the main players were brought in from outside.
In 1920 there were nine chamber concerts of music by English composers. In 1924 the festival hosted the première of Boughton's musical setting of Thomas Hardy's play The Queen of Cornwall. The author was present and was said to be 'pleased'.
Why did Ronald Boughton's classical version of Glastonbury come to an end?
The day before that very first gathering of bohemian folk at Glastonbury in 1914, England declared war on Germany and, even though then the grim reality of the conflict still lay in the future, it soon took its toll on the festival's ambitions.
By 1926 when the festival came to an end, though, Boughton had staged more than 350 works, 100 chamber concerts, alongside exhibitions, lecture programmes and recitals.
Ironically, it was the composer's socialist sympathies that resulted in the demise of this most democratic of festivals ultimately. Publicly siding with the Miners' Lockout during the General Strike, Boughton staged his choral-drama Bethlehem with the baby Jesus born in a miner's cottage and Herod portrayed as a top-hatted Capitalist.
The embarrassed good burghers of Somerset withdrew their sponsorship and support from the festival.
Rutland Boughton is now mainly remembered as the composer of The Immortal Hour, an opera that holds the all-time record for running for an unprecedented 216 nights in London.
He did, however, for a brief period, bring to life a festival that was truly groundbreaking in its approach and reach.
Elgar said of it, "We believe that Glastonbury has in it the possible development of a movement of the greatest importance, both for British music and the regeneration of the life of the countryside."
Today, more than 100 years on, Glastonbury remains an important focus for music and alternative lifestyles, culminating in the Glastonbury Festival of contemporary performing arts known the world over.