Is Renée Zellweger really singing as Judy Garland in 'Judy'?
22 July 2019, 17:26 | Updated: 11 September 2019, 17:58
'Judy' is out in cinemas this October and we have seen glimpses of Renée Zellweger in the lead role. But is she really singing, and can she pull it off?
Renée Zellweger is playing Judy Garland in the new Rupert Goold biopic, Judy, out in UK cinemas on 4 October 2019.
Goold's film picks up with Garland in 1968, nearly thirty years after her appearance in The Wizard of Oz – and her unparalleled performance of 'Over the Rainbow' – made her ridiculously famous when she was still a teenager.
A couple of trailers for the film have been released so far, and in one of them we get to hear Zellweger singing 'Over the Rainbow', 'The Trolley Song' and 'Come Rain or Shine' in the title role.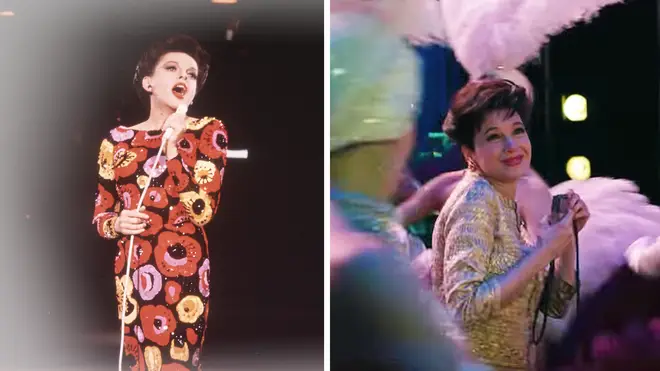 Read more: Watch Renée Zellweger sing Judy Garland's 'Over the Rainbow' in the trailer for the new biopic
Can Renée Zellweger really sing in Judy?
Speaking in a statement at the time of the first trailer's release, the film's director, Ruper Goold, said: "I made it clear to Renée that I wasn't looking for an impersonation of Judy Garland's inimitable voice, but what I wanted was for Renée to make the songs her own."
So, yes, Zellweger is really singing.
And it's a thrill to hear her sounding so like Judy, while also giving us something we have never heard before. It's a nostalgic and loving tribute to a voice we have pretty much all grown up with one way or another.
Like Taron Egerton in Rocketman, Zellweger's vocals in Judy are all hers, and an IMDb search shows us she worked with both a dialect coach (Elizabeth Himelstein) and vocal coach Eric Vetro, whose CV also boasts La La Land and coaching Emily Blunt in Mary Poppins Returns.
Read more: Can Bradley Cooper really sing in A Star is Born?
In an interview with Yahoo, Zellweger describes the film as "a celebration of Judy, and her humanity, and the wonderful human being that she was."
Here's our take on the three Judy Garland hits we have heard her tackle so far in the trailer...
1. 'Over the Rainbow'
It's very much Zellweger's voice coming through in the excerpts of 'Over the Rainbow' we can hear in the trailer above.
And the important thing to remember, here, is Zellweger is portraying Garland in 1968, thirty years after she appeared in The Wizard of Oz (which is of course where 'Over the Rainbow' originated from).
This is 46-year-old Garland singing 'Over the Rainbow' and Zellweger really captures the wistful, almost burdened way she rendered the Harold Arlen/Yip Harburg song by that time in her career.
Zellweger plays with the rhythm of the melody a little in her version, as Garland often did singing live (watch this 1965 'Andy Williams Show' performance for an example and watch the Judy trailer above again to compare).
From the trailers, it seems apparent that Zellweger has really nailed evoking Garland's vibrato and way of adding slight inflections and ornaments to the melodies of her songs.
2. 'The Trolley Song'
There's a depth to Zellweger's voice, and good control over the pitch when she sings 'The Trolley Song' – originally from Meet Me in St. Louis.
She incorporates the colour you can hear in Garland's own 1944 recording of the song, released by Warner Bros. as part of the Meet Me in St. Louis soundtrack. Zellweger nails the distinctive Garland accent in her vocals too, likely thanks to the aforementioned dialect coaching she undertook.
Read more: Can Seth Rogen really sing as Pumbaa in 'The Lion King' live-action remake?
3. 'Come Rain or Shine'
Zellweger's voice has similar depth, coupled with a smooth control, in 'Come Rain or Shine', which plays above scenes of Garland struggling to hold it together under the pressures of meeting the demands of stardom while losing out on time with her children.
As per Goold's direction, Zellweger isn't *exactly* Garland, but rather evokes her. And it's wonderful from the short excerpts we can hear in the Judy trailers.
Judy is out in UK cinemas on 2 October 2019.