Can Emily Blunt really sing in Mary Poppins Returns? We asked a soprano to analyse her vocals
10 December 2018, 16:35 | Updated: 12 December 2018, 11:08
Mary Poppins Returns... and this, time she's Emily Blunt. But can she fill Julie Andrews' elegant shoes? Absolutely, says professional soprano Catherine Bott.
Bott, who has a number of recordings to her name, praised Emily Blunt's portrayal of Mary Poppins:
"To be honest, I was expecting to dislike the music in the new Mary Poppins film – as a child, I was enchanted by the original, 54 years ago, and surely Julie Andrews, with her glorious voice and brisk diction, is irreplaceable? I'm also suspicious of films in which lovely young actresses, not known for their singing, claim to have nailed all their vocals in an afternoon.
"But then I saw that Emily Blunt – who already has singing 'form' from Into the Woods – had been cast as Mary Poppins so early on that the songs were written for her: she says that by the time she started rehearsals, she'd already been living with them for six months."
Listen to the new soundtrack for Mary Poppins Returns >
Catherine Bott, who is also a Classic FM presenter, said: "And it shows: in the tender 'The place Where Lost Things Go', Blunt sings and acts to perfection, with musical phrasing and lots of breath in her voice, perfectly pitched on every note (well, you'd expect no less from Mary Poppins)."
Emily Blunt - The Place Where Lost Things Go (From "Mary Poppins Returns"/Audio Only)
Bott also praised the composer's treatment of Blunt's songs, which were designed to match the actress' alto tones.
"When a song is written for you, and the composer's around to talk to, you can make sure it's perfect: the returning Ms Poppins prefers a lower key to the high soprano pitches that suited Julie Andrews so well. I predict a huge hit."
However, Bott was less keen on Blunt's English accent, along with that of her co-star, Lin-Manuel Miranda.
"When Emily Blunt speaks, I do think she's trying a little too hard – hoping to convince as a posh period Londoner. (Unlike her successor, Dame Julie has never lost an iota of her original English accent.)"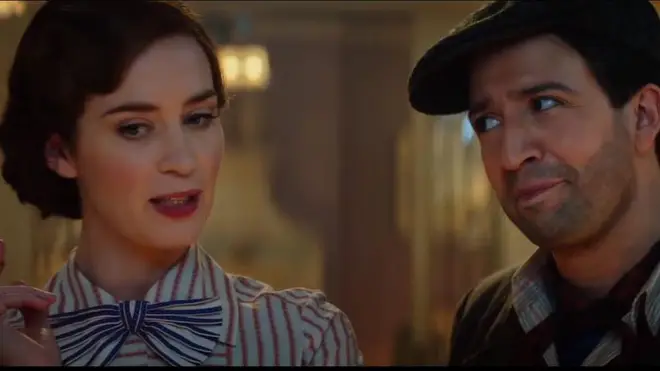 "And talking of accents, Lin-Manuel Miranda hasn't attempted a Dick van Dyke impersonation (given that the man himself has a cameo role, that was probably wise): so we are left with Jack the Lamplighter sounding a bit like all of Daphne Moon's brothers in one. But he's got Bert the Chimney Sweeper's cheeky charm and as creator and star of Hamilton he's already proved himself (and how) on Broadway.
"As a bonus, we get to hear some fabulous accomplished singing from Meryl Streep as Cousin Topsy… I have a feeling that Mary Poppins Returns is going to silence all doubters."