Violinist plays solo through intercom on Texas flight, to the delight of passengers
30 May 2023, 11:58 | Updated: 30 May 2023, 12:25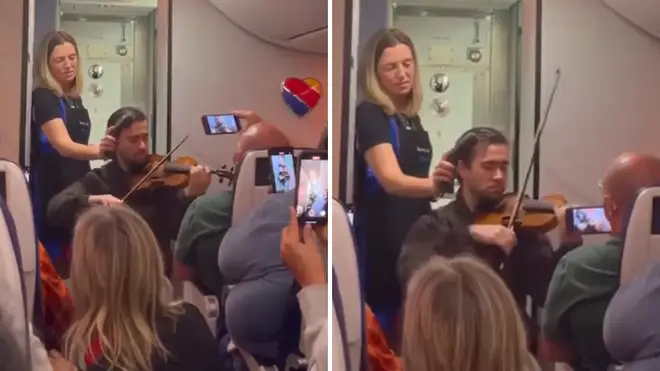 Southwest Airlines passengers were treated to a mid-air concert, from a professional violinist who happened to be on board their flight…
At 30,000 feet in the air on a flight over the borders of Arizona and New Mexico in the US, a violinist took out his violin and played a serene solo in the skies.
Professional violinist Brandon Elliott was on a Southwest Airlines flight from Las Vegas to Dallas on 2 March, when he decided to put on the mid-air concert.
Seated at the front of the cabin with his eyes closed, Elliott played a soaring melody, featuring some impressively on-point double stops, for his fellow passengers.
A video (below) posted by the airline has since gone viral with 667,000 views on Facebook.
In the footage, the flight attendant can be seen holding the interphone next to Elliott's violin, projecting the music to the passengers in the back rows.
Read more: Polish airline told violinist to either store €5 million Stradivarius in hold, or not get on the plane
"Time flew by I bet," one user remarked. "Nice someone would share their gift on your flight."
Another recalled a time they were flying to Vegas, and the longstanding Tabernacle Choir were on board. "We were on a flight from Salt Lake to Las Vegas and the [Mormon] Tabernacle Choir was on board," they said.
"They opened the cabin and they sang for everyone. There [were] only five of us not in the choir. Great memories."
If this has left you yearning for some more mid-air musical moments, enjoy the time a barbershop quartet surprised their fellow passengers with some close harmony on board a delayed flight, and this wonderful moment from the singers of Cape Town Opera, who performed an unexpected Verdi chorus.
While flying can be a stressful and often costly experience for many musicians, here's a reminder of the beauty and calm music can bring...
For more relaxing music, enjoy Calm Classics every night from 10pm–1am with Ritula Shah and Myleene Klass on Classic FM.