Toddler plays a heartwarming piano duet with her 100-year-old great-grandfather
29 March 2023, 13:44 | Updated: 31 March 2023, 09:30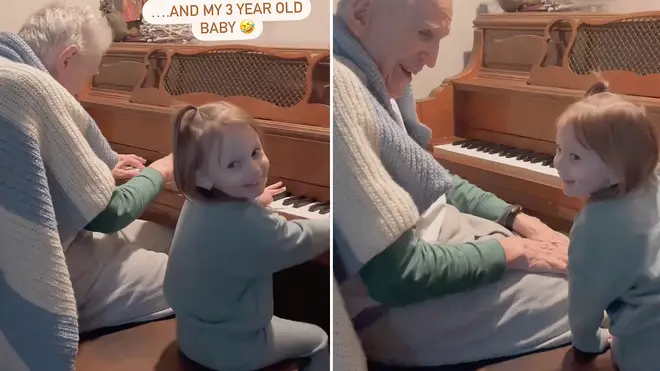 A piano, a sense of adventure, and an ageless connection through the power of music.
Music spans generations, in this delightful duet from two family members nearly a century apart in age.
Watch below as a three-year-old girl sits down at the piano with her great-grandfather, 100-year-old veteran Harold Chilton, for an improvised piano duet.
As Chilton holds the music together in the left hand, his great-granddaughter improvises a melody in the right-hand.
Over her great-grandfather's jazzy chords and walking bass, the toddler's take is more free-form musical stroll. And it's a wonderful image of the joy of making music together.
Mum Shana Wyban, who posted the moment to Instagram, commented: "They do have lots of fun together! She LOVES to play with Grampapa, and although I don't know if she is quite the prodigy he was, he loves to play with her too!
"He can make anyone sound good!! I love these moments. I love that she will have these memories to look back on. Every day is a gift." [sic]
Read more: Adorable toddler has the most beautiful reaction to Bruch's violin concerto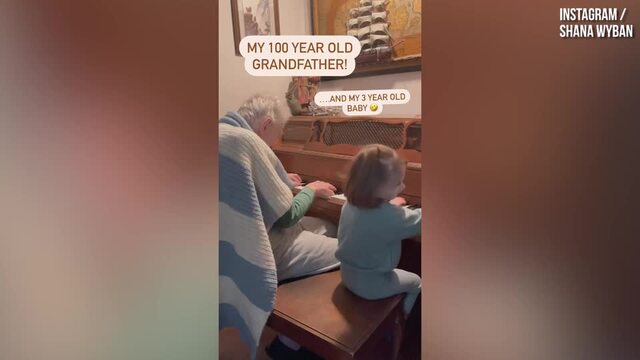 Three-year-old plays piano with her great-grandfather in sweet clip
Chilton is a World War II veteran from Arkansas, who turned 100 in November last year, one day after Veterans Day in the US.
After learning to play harmonica and ukulele as a child, Chilton branched out to playing the accordion, guitar and piano.
As an adult, he enlisted in the US marine Corps and was assigned to the Marine Band, where he learned to play French horn.
Read more: Lang Lang astonished by 94-year-old pianist's 'powerful' concerto at Glasgow station
Speaking to a US news outlet, Chilton credited his long and healthy life to the number of hobbies he keeps up, including making music. He has recorded over 2,200 songs, and regularly sends CDs to family members and friends.
Bechstein, the prestigious German piano manufacturer, commented on Wyban's video saying: "This is heartwarming. What a precious moment, playing the piano together."
Another user commented: "Aww. This reminded me of sitting at the piano with my late grandmother when I was a kid."
Here's to many more duets from this wonderful musical pairing.