Blind pianist Lucy stuns Royal Albert Hall with breathtaking Debussy debut
19 October 2023, 20:48 | Updated: 22 October 2023, 08:15
Blind pianist Lucy stuns Royal Albert Hall with breathtaking Debussy debut | Classic FM Live
Watch a very special performance, as the exceptional pianist who won Channel 4's 'The Piano' plays deeply emotional Debussy to an audience of 6,000 in London's iconic theatre.
Monday night saw an incredible piano debut on one of the world's biggest and most iconic stages.
Playing at Classic FM Live with Viking was a musician whose talent and deep relationship with music has stunned the classical world. Teenage pianist Lucy played Claude Debussy's Arabesque No. 1 to the packed hall.
The remarkable young pianist won the Channel 4 series The Piano earlier this year, aged just 13. Her opening performance of a Chopin nocturne on a train station piano left judge Lang Lang stunned and lost for words.
From that moment, a new piano star was born. Lucy played in May's Coronation Concert for King Charles at Windsor Castle, and has now continued her incredible journey with this Classic FM concert and a Royal Albert Hall debut.
Lucy, from West Yorkshire, is blind and neurodivergent. She is taught by Daniel Bath, a teacher who she first met when she was three years old. Daniel was beside his student on stage as she made her debut on Monday.
Watch her performance above. Her interpretation of the French composer's music captivated the huge audience, holding them in an awed silence before a huge ovation at the end. What a moment it was.
Read more: Who is Lucy from The Piano? Blind and neurodivergent young pianist has a new documentary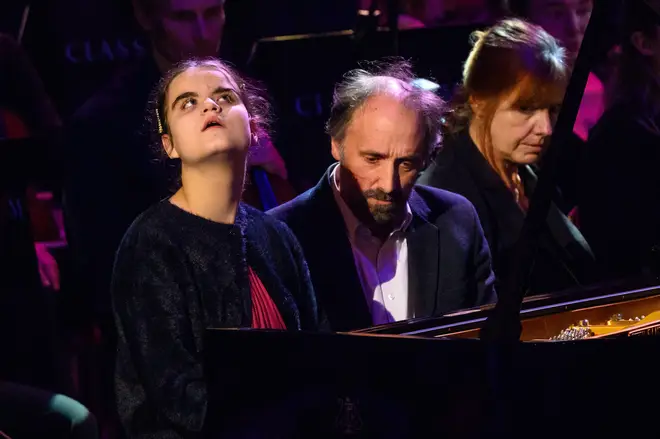 The Arabesque is a piece Lucy has made her own. In March, she played it at London's Royal Festival Hall, as part of the grand finale of the TV series where she took top honours.
The concert saw a night of incredible solo performances, with British-Iranian pianist Arsha Kaviani, guitarist Miloš Karadaglic, and brilliant young violinist – and Classic FM Rising Star – Luka Faulisi all sharing the stage with Lucy.
Along with the Debussy, Lucy also played Bach's beautiful C-major Prelude from the Well-tempered Klavier.
You can hear her performances and all the night's musical magic by catching up on Friday's exclusive broadcast of Classic FM Live with Viking here on Global Player. YOu can also watch the full concert soon on Sky Arts.