'Accept that you won't play everything equally well' – pianist Imogen Cooper shares her advice for young musicians
31 August 2018, 12:10 | Updated: 3 September 2018, 11:31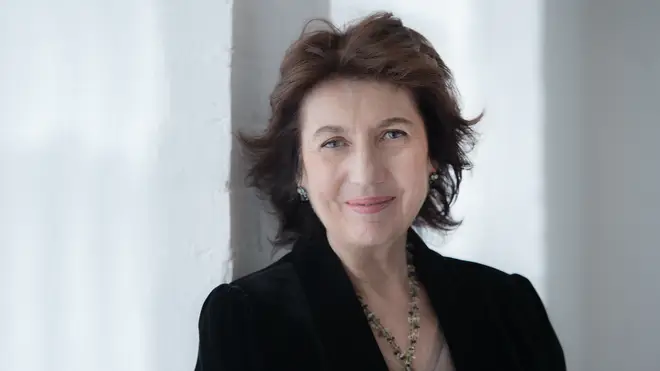 Imogen Cooper is one of today's greatest pianists and this year is on the jury for The Leeds International Piano Competition. Ahead of this year's finals we spoke to her about the importance of having hobbies – and the composer she'd most like to meet.
What's your earliest musical memory?
Sitting on the family piano stool aged three, wearing a thick pale blue jumper that my mother had knitted, and picking out 'The First Noël' with one finger on the piano without mistakes. Two years later I was allowed to go with my father, the music critic Martin Cooper, to Covent Garden to see Verdi's Rigoletto. There is an Evening Standard photo of me in a polka dot dress and big round cheeks, standing at the bottom of the steps going up to what was then called the Crush Bar. I was enthralled by the opera.
Why did you choose to become a pianist?
Because there was a piano in the house and we were all warned off learning stringed instruments by my father, who said that the learning process sounded like a pig being killed. So in the family, there were two pianists, an oboist and a clarinettist. I am fortunately the only one to have stuck with it.
What would be your one piece of advice for anyone trying to become a solo pianist?
Work harder than you thought possible, learn as many works as you can whilst young – they will stay with you. Be judicious about which repertoire you perform though, go with the composers who speak to you, and with whom you feel a deep empathy. Accept that you won't play everything equally well. Learn what your strong and weak points are, and be tenacious about correcting the latter!
How do you advise young musicians to look after their mental health?
Keep a sense of balance, and try not to take criticism too hard. Develop another interest, be it scuba diving or cooking, and try and leave time for it.
Mozart: Piano Concerto No. 25 / Cooper · Rattle · Berliner Philharmoniker
Which recording or project are you proudest of and why?
Probably the most exhausting and most satisfying were the Schubert Live piano works of the last 8 years (on the Avie label) – recorded at recitals at the Southbank Centre, with the morning rehearsal also recorded and a small correction session late after the concert. They were big days!
But my Chandos recordings have been a joy – made in the Snape Maltings which feels so full of history and atmosphere. I particularly like the latest one, a combination of Liszt and Wagner.
Which recording or project would you like to go back and do differently?
It may sound arrogant, but none really. if I was not happy with a first edit, we always had sufficient material to better things, and the recordings were released because I OK'd them.
What's been the high point of your career so far?
In terms of sheer musical satisfaction? The first time I played the last three Schubert Sonatas in one concert – I had resisted it for so long, but the experience was extraordinary. With orchestra, many happy occasions, the Philadelphia Orchestra with Simon Rattle, indeed the Berlin Philharmonic with Rattle, and particularly the Budapest Festival Orchestra with Iván Fischer.
Which composer, contemporary or from the past, would you most like to meet and why?
Schubert, simply because I love him so much.
What, if anything, do you think needs to change about the traditional concert format?
I am all for change, but it must make sense and be well done. There must be a reason, and it must be convincing. Best example – Iván Fischer and Budapest Festival Orchestra in London earlier this month: they performed a stunning Brahms Symphony No.1 in the second half, and a first half made up of gypsy and folk music, with Fischer talking in between the works, and introducing virtuoso gypsy violinist and cimbalom players.
As an encore at the very end, the orchestra played Brahms' Hungarian Dance No.4, simultaneously singing the original melody as if their lives depended on it. Exhilarating, moving, you didn't know whether to laugh or cry. Would that we all had Fischer's imagination, intensity and yet lightness of touch!
The Leeds International Piano Competition takes place this September. You can watch all of the performances online with medici.tv. Find out more here.