9 ways to keep your children entertained and creative with music in quarantine
23 April 2020, 14:16 | Updated: 23 April 2020, 14:21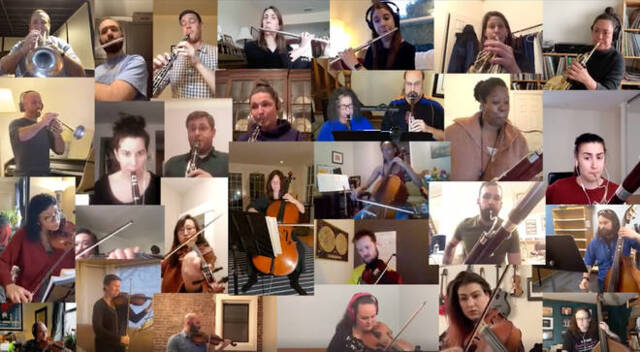 Orchestra in self-quarantine host virtual concert and perform Ode to Joy
As many families are in some form of lockdown, parents around the world are juggling work and home-schooling with everyday parenting, all under the same roof. Here's how music can help...
With schools closed and lots of us working from home, parents are suddenly being faced with the enormous task of keeping their babies, toddlers and children entertained every hour of the day.
And clearly, there's only so much Peppa Pig on Netflix you can bear...
So, we've gathered together some amazing online resources to keep your kids creative and entertained with classical music.
Watch a free ballet together

Since the coronavirus outbreak started, the world's greatest music venues have been hearing our cries for entertainment, and streaming productions online for free. Every week, the Royal Opera House presents a new ballet or opera on YouTube, starting with Prokofiev's Peter and the Wolf and following up with Alice's Adventures in Wonderland.

The Royal Ballet are streaming their productions online.

Picture: Getty

Watch child-friendly classical music live streams

Since their halls closed mid-March, orchestras have continued to share music. The Seattle Symphony have free weekly educational streams – try Meet the Instrument, which introduces kids to instruments of the orchestra. There's also the online Cocoa Concerts from the Budapest Festival Orchestra and their maestro Ivan Fischer, which are designed to keep children engaged by music.

Meet the Instrument: Tuba

Get creative with some DIY percussion

If the text-book approach to your home ed programme isn't going to plan, try a more hands-on approach. Whether it's water bottles, pots and pans (like the Great Ormond Street Hospital Charity suggests) or an old satellite dish (if you happen to have one of those knocking around like this dad, below), gather together all you can find and leave your little one to have a play. You can apologise to the neighbours later…

Read more: 16 wonderfully creative ways to teach children music theory >

Watch a free musical online

As West End and Broadway theatres bring the curtain down to slow the spread of the virus, musicals legend Andrew Lloyd Webber is serving up a free stream of one of his productions every week on YouTube – from The Phantom of the Opera to Jesus Christ Superstar. There are also a handful of popular shows being made available online across various streaming sites, including Hamilton and Moulin Rouge.

'The Phantom of The Opera' | The Phantom Of The Opera - Stay Home #WithMe

Brave a home singalong…

With choir rehearsals cancelled and concerts called off, quarantined singers are taking their musical energy online. Why not make like the Marsh family and have a home singalong? Bonus points if you end up going viral and making it onto Breakfast TV (bravo btw, guys).

Read more: The Kanneh-Mason family live-streamed a Beethoven concerto in lockdown >

Family's Les Misérables parody goes viral

Create and learn with the Royal Opera House

From theatrecraft to learning a dance routine, the Royal Opera House have an amazing resource for families available on their website – full of ideas on how to get your children inspired by music and theatre.

Make your own Royal Opera House stage #OurHouseToYourHouse

Get them inspired with the Benedetti Foundation

When music education is needed, Nicola Benedetti provides...

The star violinist's Benedetti Foundation is serving up daily online music lessons on Facebook and later available online. Members of the Foundation's team of tutors and ambassadors jump onto the Benedetti Foundation Instagram and go live with fun and inspiring lessons every weekday at 12pm BST.

Learn the rudiments of theory with Myleene's 'Music Klass'

Musician and Classic FM presenter Myleene Klass is doing a great online series of music lessons, all demonstrated alongside her two daughters. She says: "PARENTS!! How's home schooling working out for you?! If you want me to take over a lesson for you, here's my gift to you. FREE music lessons which stick to the curriculum and most importantly, are fun!"

Introduce them to Warner Bros cartoons

With his wonderful scoring of the Looney Tunes shorts, American composer Carl Stalling introduced a whole new generation to classical music – through the magic of Bugs Bunny and his animated friends. These brilliant 1960s cartoons are just as entertaining today as they ever were...

Read more: Tiny toddler conducting to a Borodin opera will cheer you up no end >

Bugs Bunny at the Symphony II: "Rabbit of Seville" Excerpt