The Kanneh-Mason family live-streamed a brilliant Beethoven concerto in lockdown
20 April 2020, 20:51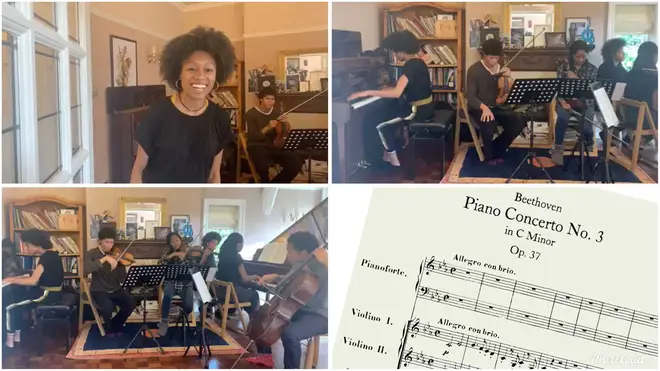 In difficult times, we all need a lift. Thank goodness this family reached for their Beethoven scores.
People around the country are staying at home to help ease the spread of coronavirus, or COVID-19. The same goes for the country's musicians, and one young musical family in particular.
The extraordinarily talented seven siblings of the Kanneh-Masons have all returned to their family home in Nottingham, England. And whenever they get together, they enjoy each other's company, play games, and of course, make music.
On Saturday 18 April, pianist Isata Kanneh-Mason was due to perform Beethoven's Third Piano Concerto at the Royal Albert Hall. With concert cancellations meaning that performance couldn't go ahead, her siblings decided to accompany her in a chamber version of that concert, all from their family living room.
And it really feels like a gift to a world that's in need of a good dose of the joy and togetherness of music.
Helping anchor the bassline in this performance is cellist Sheku Kanneh-Mason, who has recently celebrated his 21st birthday. Sheku became a household name in 2018 when he played at the Royal wedding of the Duke and Duchess of Sussex.
Everything you need to know about the Kanneh-Mason family >
Soloist Isata is one of the country's finest young soloists and, like her brother, is signed to the Decca Classics record label. Last year Isata graced the stage of the Royal Albert Hall for Classic FM Live.
Violinist Braimah and multi-instrumentalists Konya, Aminata, Jeneba and Mariatu complete the talented Beethoven ensemble.
Thank you to all the Kanneh-Mason family – children and parents. We really needed that.