Who was George Bridgetower? The violin virtuoso who fell out with Beethoven
22 July 2020, 09:38 | Updated: 22 July 2020, 10:20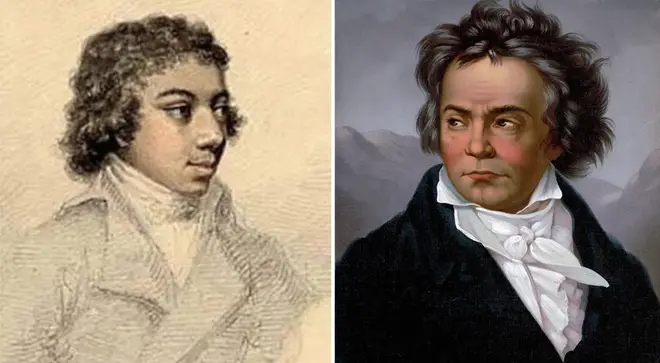 Have you heard of the Afro-European violin virtuoso, by whom Beethoven was so impressed that he composed a sonata just for him? Here's the story of George Bridgetower.
George Augustus Polgreen Bridgetower was born in 1778 (or 1780, no one quite knows which) in Poland, to an Eastern European mother and West Indian father.
His father was a servant in Prince Esterházy's Hungarian castle, a spectacular building which boasted an opera house, a puppet theatre and the established composer, Joseph Haydn, as Kappelmeister.
By the time young Bridgetower and his family moved to London, music was in his veins. Aged 10, George became a professional violinist and gave performances with the Royal Philharmonic Society Orchestra. The young prodigy began composing and teaching, and later attended Trinity Hall, Cambridge where he earned a Bachelor of Music degree.
By 1789, Bridgetower was taking his music to Paris, London, Bristol and Bath.
After his Paris concert, French journal Le Mercure de France wrote: "His talent is one of the best replies one can give to philosophers who wish to deprive people of his nation and colour of the opportunity to distinguish themselves in the arts."
Read more: 9 black composers who changed the course of classical music history >
Violinist George Bridgetower (1791-1860). The son of an Afro-Caribbean servant and a Polish mother at the Esterhazy palace, he was a student of composer Joseph Haydn and a friend of Beethoven. Beethoven dedicated a violin sonata to him, which was so hard to play many gave up. pic.twitter.com/TEwoMp6rcr

— Dr. Kira Thurman (@kira_thurman) June 18, 2020
In April 1803, Bridgetower arrived in Vienna from England. He was already an established violinist, having being employed by the Prince of Wales (later George IV), and polyglot, being fluent in English, German, French, Italian and Polish.
Find out about George Bridgetower's compositions via the British Library >
During an episode of Beethoven: The Man Revealed on Classic FM, Beethoven expert John Suchet said of the brilliant young violinist's arrival in the musical capital: "With such credentials he was swiftly introduced into aristocratic circles in Vienna.
"And such was his skill on the violin, he was taken to meet Beethoven."
Beethoven was deeply impressed by Bridgetower's virtuosity and composed a sonata just for him – his Violin Sonata No. 9, of which Suchet says: "Violinists today regard it as the Mount Everest of violin sonatas. If you can play that, you can play anything."
Bridgetower and Beethoven played the sonata together, on violin and piano. A glittering assembly gathered to watch the pair, and the performance was a triumph. Beethoven dedicated the sonata to the young violinist, calling it the 'Sonata per un Mulattico Lunatico'.
Read more: George Bridgetower (1779 - 1860) and Beethoven: a troubled relationship >
George Bridgetower scene from Immortal Beloved
"And then, Bridgetower made a mistake. A mistake he would regret for the rest of his life," Suchet says. "He made an off-colour remark about a lady that Beethoven knew. And Beethoven was furious."
The composer withdrew his dedication, and the sonata would come to be known as the 'Kreutzer' Sonata instead, after the French violinist Rodolphe Kreutzer.
After the fall-out, Suchet says, "Beethoven and Bridgetower never met again. Bridgetower left Vienna soon afterwards to visit relatives of his mother in Poland.
"There are two sad codas to this story. Many years later, at around the age of 80, Bridgetower was living in a home for the destitute in Peckham, in South London. His hands had long since succumbed to arthritis. He could no longer move his fingers in the way he once had. The residents and staff of the care home had no idea this resident had once been a famous violinist who played for royalty."
Read more: The life of 'Black Mozart', 18th-century composer Chevalier de Saint-Georges >
Poor George Bridgetower. He'd be known to music lovers everywhere if he hadn't made a lewd joke that upset Beethoven. As for Kreutzer he never performed the violin sonata dedicated to him. Beethoven - The Man Revealed 9pm tonight @ClassicFM pic.twitter.com/cBqFpCFrIU

— John Suchet (@johnsuchet1) July 18, 2020
The second tragedy, Suchet says, was that Kreutzer received the manuscript in Paris, took one look at it and declared it unplayable. Despite it bearing his name, he never once performed the sonata in public.
George Bridgetower died penniless on 29 February 1860, all but forgotten by the classical music world.
"There were no relatives to be with him," Suchet says. "The woman who signed his death certificate was illiterate and signed her name with a cross."
Today, he is buried in Kensel Green Cemetery in West London.
Discover more about George Bridgetower via the British Library >