11 evocative pieces of classical music inspired by the colours of autumn
14 September 2021, 17:53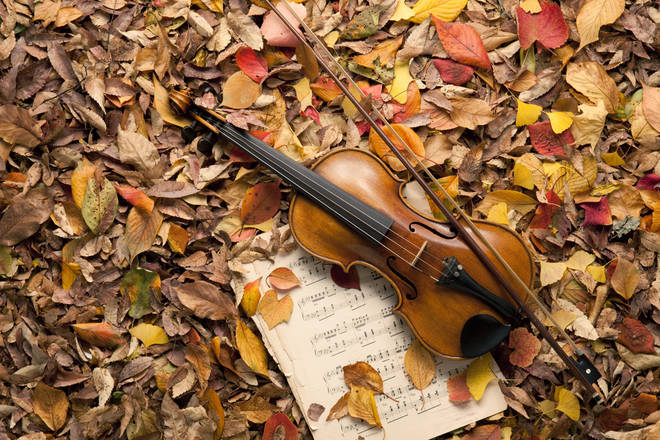 As summer fades and brown leaves close in around us, we seek some of the best pieces of music inspired by the fall months.
The changing of the seasons, and the invigorating weather it brings with, has inspired many wonderful pieces of classical music.
And no season evokes a sense of change, hopeful new things on the horizon and turbulent reflection quite like autumn. After the brightness of summer, it seems to have a sense of being unsettled before settling down and preparing to look ahead to a hopeful future.
And many a composer has been inspired by the season. From Vivaldi who brought autumn colours to the third of his Four Seasons concertos, to Imogen Holst who created a series of studies in The Fall of the Leaf, here are some of the most evocative pieces of classical music inspired by autumn.
Read more: 13 pieces of classical music inspired by birdsong
Antonio Vivaldi: 'Autumn' from The Four Seasons

Baroque composer Vivaldi brought to life the seasons of a northern hemisphere year with four virtuosic violin concertos published in 1725.

'Autumn', like the other concertos, has three movements: the first is energetic and rhythmic, and depicts a harvest festival dance. The second is a slow movement that seems to usher the cool air and reflective crisp mornings of autumn well and truly in. And the third movement is a lively and jaunty affair, setting to music an autumn hunt taking place atop a layer of crispy settled leaves.

Read more: How Vivaldi perfectly captured the season of autumn and created one of the great concertos

Fanny Mendelssohn: 'September', 'October' and 'November' from Das Jahr

In 1841, Fanny Mendelssohn composed a set of 12 piano pieces representing every month of the year.

'September', 'October' and 'November' of Das Jahr ('The Year'), have distinct, autumnal moods reflecting not only the seasons but also Mendelssohn's own life and frame of mind at the time of writing.

Jules Massenet: 'Pensée d'automne'

Jules Massenet is well-known for his operas, and especially Thaïs and its beautiful violin-led Méditation.

He also wrote songs for voice and piano. 'Thoughts in Autumn' sees a pensive singer turn their notions to the turning year, and sing, "The year slips away like a flowing stream, taking away the fleeing lights of the West. And like that of grieving birds, the flight of memories languishes in the air."

Pyotr Ilyich Tchaikovsky: 'Autumn Song' from The Seasons

For his Seasons, Russian composer Tchaikovsky characterised the 12 months of the year in separate movements, the autumn instalments of which depict a harvest, a hunt and an 'Autumn Song', which is sublimely lyrical and mournful.

Scott Joplin: 'Maple Leaf Rag'

Autumn is the season maple leaves change their colour to the vivid browns and fiery reds they're famous for.

'Maple Leaf Rag' is one of 'The King of Ragtime' Scott Joplin's early rags, and it became the roadmap for ragtime used by subsequent composers working in the genre.

Read more: 7 brilliant rags and pieces by Scott Joplin that you should know

Astor Piazzolla: 'Autumn' from The Four Seasons of Buenos Aires

About 245 years after Vivaldi captured the four seasons in music, Argentine composer Piazzolla created a tango-infused homage to the Baroque composer's enduring work.

Piazzolla's series of single tango movements in Las Cuatro Estaciones Porteñas contain several references to Vivaldi's famous work, and autumn is suitably dramatic, with raindrops and the deep light and shade cast by a low, wintery sun audible in the music.

Imogen Holst: The Fall of the Leaf

English composer Imogen Holst composed The Fall of the Leaf as a set of studies for solo cello, originally for her friend, cellist and pianist Pamela Hind O'Malley.

Variations on a 16th-century tune, the short pieces are lyrical and reflective – although punctuated by a couple of energetic middle movements – with deep, resonating colours that reflect the mood of leaves drifting and falling through autumn.

Tōru Takemitsu: November Steps

Contemporary Japanese composer Takemitsu's atmospheric November Steps was commissioned for the New York Philharmonic Orchestra's 125th anniversary, and he composed it in a secluded mountain retreat.

Like much of Takemitsu's music, it's notable for combining traditional Japanese instruments – in this case the biwa and the shakuhachi – with Western orchestral forces. Takemitsu was strongly influenced by composers like Debussy and Messiaen, as well as Japanese music traditions, and he's depicted autumn in several other works, including his 1973 orchestral work Autumn, and Ceremonial, An Autumn Ode.

Einojuhani Rautavaara: Autumn Gardens

Finnish composer Rautavaara's work depicting autumnal gardens is a lyrical piece in three moments for symphony orchestra.

Shimmering strings evoke the last throes of summer in the opening movement, before the light starts to fade in the second movement, and autumn's full chill can be felt by the final section of the piece.

Thea Musgrave: 'Autumn' from The Seasons

Scottish composer Thea Musgrave was commissioned in 1988 by the The Academy of St Martin's in the Fields to depict the earth's seasons in music.

The piece was inspired by Renaissance artist Piero di Cosimo's painting Caccia Primitiva, which depicts a gory hunting scene, and it begins with 'Autumn', which is restless and ominous.

Jennifer Higdon: Autumn Music

Jennifer Higdon is an American composer, and her inspiration for the wind quintet Autumn Music, composed in 1995, came from Samuel Barber's Summer Music.

"Autumn comes to us in many guises: incredible explosions of colour; air that suddenly snaps with crispness and clarity; a tinge of melancholy on the eve of change in all of our lives," the composer writes in programme notes for the piece. "This piece is a musical portrait of the essence and images of autumn."