'We communicate our truest human nature through music': composer Thea Musgrave, who was honoured at The Ivor Novello Awards
1 June 2018, 10:46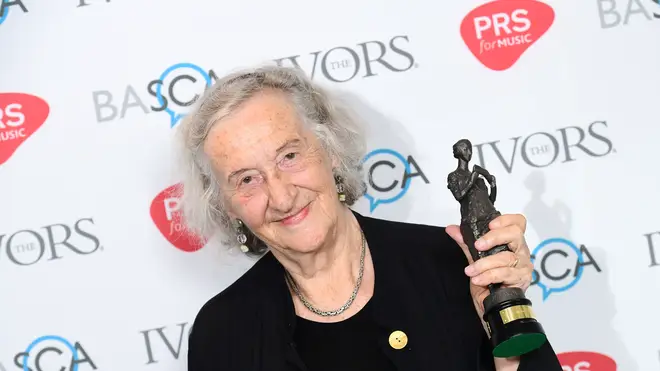 The legendary 90-year-old composer was speaking at the ceremony in London, where she was awarded The Ivors Classical Music Award.
Every year The Ivors recognise the very best in British and Irish songwriting and composing. This year, Thea Musgrave was awarded the organisation's classical award.
Thea Musgrave is a legend of classical music. She studied with Aaron Copland and Nadia Boulanger and counted Elliott Carter and Richard Rodney Bennett among her friends.
Accepting her award from oboist Nicholas Daniel, she said:
"Whether one dances for joy or laments for loss, we are able to communicate our truest human nature to others through music even as we experience it to the fullest for ourselves.
"The fact that those voices — of the Ancient Greeks, Persians, Egyptians, Chinese, Africans — are still heard today attests to both the importance and tenacity of artistic communication. Closer to our time, the fact that Monteverdi, Bach, Mozart, Wagner, Stravinsky and Britten are still top of the charts even after all these years, confirms the power of classical music.
"That is the mission I am proud to be part of. I am enormously proud to be part of that legacy."
Discover more great women of classical music >
Thea Musgrave - Song of the Enchanter (1990)
Speaking to Classic FM after the ceremony she said shared three pieces of advice for young composers:
"You have to have ideas and the desire to do it and the passion to do it but then at some point you have to get some technique so you need to find a good teacher.
"Second, make friends with performers because there's no way you can know every instrument intimately. I'm 90, I'm still learning from performers so choose your performers and go with them.
"And last, always be true to yourself, don't try to be original, just be true to yourself in what you really believe and what you really want to talk about in your music."
Asked what she'd like to see change in the classical music industry, she said: "I'm glad that orchestras and opera companies do the classical repertoire, but I wish they'd do more contemporary work."
The Ivors' main focus is pop music and stars including Ed Sheeran and Stormzy were recognised at the ceremony.
But when asked about her own taste in pop music, Thea Musgrave said: "I'm not up on pop, I stop with The Beatles".