The very best pieces for viola
14 August 2018, 15:03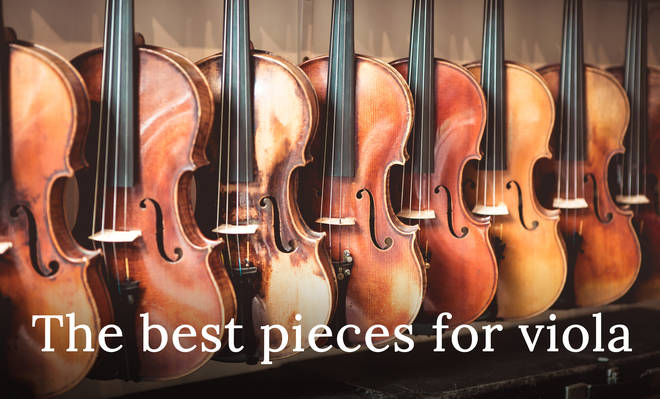 The viola is often seen as the awkward child of the string family (and the butt of everyone's jokes). But composers throughout the history of music have written some of their most beautiful work for this unsung hero of the orchestra.
Here are some of our favourite pieces of classical music for the viola.
Rebecca Clarke: Viola Sonata

Rebecca Clarke was a British-American composer born in 1886 and became the first woman to play in Henry Wood's Queen's Hall Orchestra, in 1912.

But she's best remembered for this epic work. Viola player Jennifer Stumm has said of the piece: "Rebecca Clarke re-established the instrument as something that could be soft and feminine and wild and powerful and much more like a jazz singer."

"For the viola it's a hugely important piece. She envisioned a different kind of viola, one that wasn't pigeon-holed into any one idea. She was writing with this incredible fascination for colour and every possibility of the instrument."

Berlioz: Harold in Italy

"Wine, blood, joy and rage miingle in mutual intoxication and make music together". That's how Berlioz described his symphonic poem Harold in Italy. The work is based on Lord Byron's poem Childe Harold's Pilgrimage and Berlioz was encouraged to write it by none other than Niccolò Paganini.

Paganini had just got his hands on a beautiful viola and he needed something to test drive it. He's supposed to have said: "You are the only one I can trust for the task."

We'd say his trust paid off.

Mozart: Sinfonia Concertante

The viola really found its feet as a solo instrument in the 20th century. But that's not to say earlier composers weren't alive to its beauty. Mozart's Sinfonia Concertante is a piece for violin, viola and orchestra in which the violin and viola have equal billing.

Walton: Viola Concerto

This is a work that really put composer William Walton on the map. His Viola Concerto quickly became an established part of the instrument's repertoire, from its melancholy opening to the infectious rhythms of the Scherzo.

Viola player David Dalton has said of the piece "When I first heard the opening theme of the Walton Viola Concerto, it affected me as a siren song."

Strauss: Don Quixote

In Richard Strauss' musical re-imagining of Cervantes' classic novel the viola takes the role of Don Quixote's buffoonish sidekick, Sancho Panza. (Don Quixote's part is taken up by a solo cello).

During the piece the pair battle evil giants (in reality, windmills) and fight off an advancing army (a herd of sheep). But the real heroes of the story are the viola and cello.

Bartók Viola Concerto

This is one of the last pieces the great Hungarian composer ever wrote and it quickly became a staple for viola players. David Aaron Carpenter included it on his album Motherland released only this year.

It has all Bartók's trademark rhythmic creativity with plenty of heart-rending melodies thrown in.

Schumann Märchenbilder

There are few composers who can hold a light to Schumann when it comes to writing a melody that feels like it's one you've known since childhood. This collection of short pieces for viola and piano, whose title translates as Fairy Tale Pictures, showcases his beautiful ear for a good tune.

Schumann didn't leave any clues about what each piece describes, so what actually happens in these fairy tales is up to the listener.