School boy wows onlookers with Mozart sonata on train station piano
12 May 2023, 21:38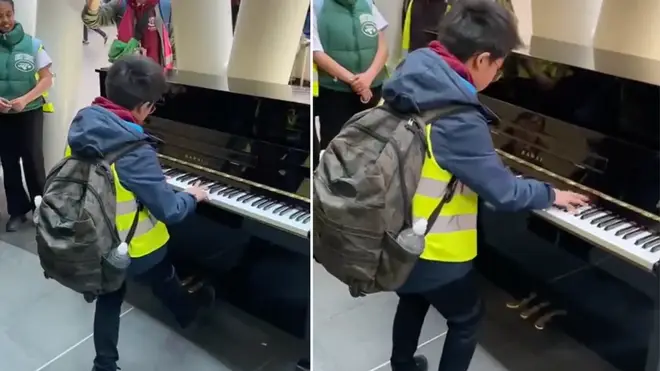 He "blew everyone away" – schoolbag-adorned young pianist effortlessly plays a virtuosic sonata at London's King's Cross station.
Last week, a group of children from Hull journeyed south on a 'London Experience', taking in the buzz, sights, and history of the UK capital.
But it ended with some musical buzz of its own, thanks to an impressive impromptu performance of Mozart on a train station piano.
After an action-packed day, the group, led by the charity Hull and East Yorkshire Children's University were waiting at Kings Cross station for their train home. This was where one musically-minded student spotted a vacant public piano.
With his backpack still on, and no piano stool needed, the young maestro took to the instrument.
"What happened next blew everyone away," said the charity as they posted the performance to Facebook. Watch below...
Read more: Blind 13-year-old pianist's stunning Chopin nocturne performance leaves Lang Lang speechless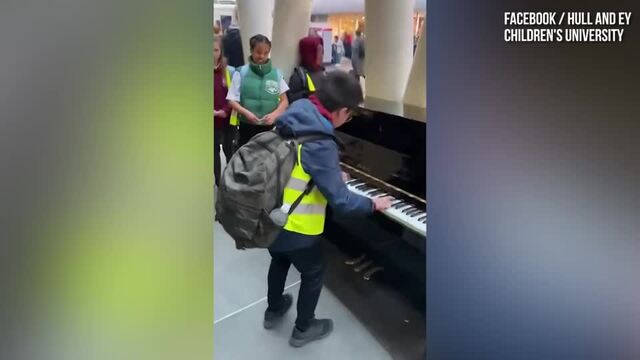 Child wows with performance of Mozart's Piano Sonata No 11 at King's Cross station
The young pianist played the breathless finale from one of Mozart's most popular sonatas.
'Rondo alla turca' is the final movement of the classical composer's Piano Sonata No. 11, and features alternating passages full of energy and Mozartian brilliance.
The group was traveling on a 'London Experience', organised by the charity Hull and East Yorkshire Children's University. The experience invites children from disadvantaged areas in Hull and East Yorkshire on trips to London, ranging from discovery days at museums, to spending time learning about local businesses. The charity aims to help those who may not have the same opportunities as others.
The instrument this piece was played on is also noteworthy in its own right. The famed public pianos of King's Cross and St Pancras station have recently been featured on the nation's TV screens.
The Piano is a musical talent show, with a slight twist, judged by superstar pianist Lang Lang and pop singer Mika.
Hosted by Claudia Winkleman, The Piano saw players taking to instruments in stations across the UK, with Lang Lang and Mika secretly looking on behind the scenes, and taking in the talent on offer.
Lucy – an astonishing 13-year-old pianist who is blind and neurodivergent, was honoured at the end of the series.
Lang Lang also treated viewers to performances on some of the King's Cross pianos to help share the magic of this spontaneous form of music-making.
Because if there's a busy train to catch, there's often a pianist (of any age) who would like to take the opportunity to share something special.