16-year-old Ukrainian violinist's poignant 'Love Changes Everything' with star soprano Danielle De Niese
23 June 2023, 17:36 | Updated: 23 June 2023, 18:27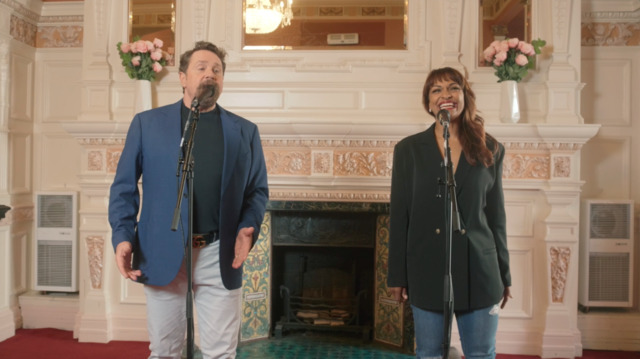 Danielle De Niese, Michael Ball and young Ukrainian violinist Solomiia perform 'Love Changes Everything'
A beautiful solo from a young Ukrainian violinist, and two of the UK's star singers, in a special moment of music to mark Refugee Week.
Superstar soprano Danielle De Niese has recorded a special version of 'Love Changes Everything' from the musical Aspects of Love, alongside her co-star Michael Ball, and a young Ukrainian violinist.
The violinist is 16-year-old Solomiia, a gifted musician who left Ukraine to seek safety. She is now living in Poland, where she is supported by the International Rescue Committee (IRC), with whom De Niese is an ambassador.
On hearing her story, the Australian-born soprano decided to record a special duet version of the Andrew Lloyd Webber music theatre ballad, dedicated to Solomiia and refugees worldwide, in Refugee Week (19–25 June).
"One of the reasons that the song is so perfect, is because the universal message of that song is that, even when times are terrible, coming together in the spirit of love and unity can change everything," De Niese told Classic FM.
"The words are just so unbelievably fitting that we just thought it was the perfect song."
Read more: 13-year-old Ukrainian refugee plays poignantly on public piano, one year since the war began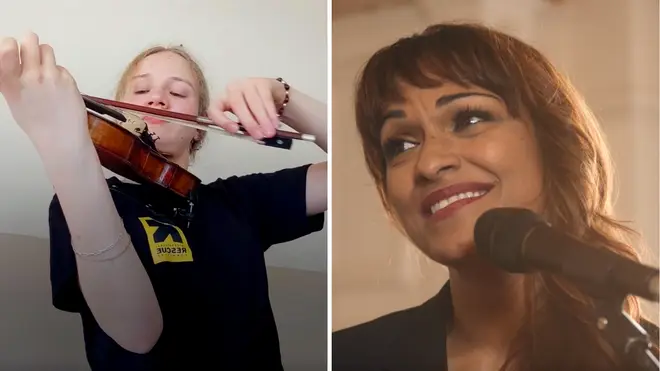 Speaking to Classic FM, Solomiia spoke of the power of music-making to give her hope and strength.
"When I feel unhealthy, when I am sick or have a headache, when I start to play, it is gone. I do not need to treat myself, I can just play. It works on me magically. I simply like it."
The young violinist now attends a musical school in Poland. When she fled Ukraine, she brought only a few things with her: "My violin, clothes, and harmony notebook."
"I did not take with me any other notebook, only a harmony notebook, because I had in there a lot of notes. I decided it [was] important and I took the notebook. Music is life for me," she said.
On recording 'Love Changes Everything', Solomiia said "the lyrics bring a lot of meaning and are very powerful, and the melody exposes it".
Read more: This choir used poetry to reflect the lives of modern refugees
De Niese described the team at IRC, which was founded in 1933 at the call of Albert Einstein, as "unsung heroes" for the work they do, in 40 different countries around the world.
"Every single person should be given the right to a safe and dignified passage, especially if seeking asylum," she added. "And that's one of the things that the IRC is so good at.
"They are providing support systems for both people who are fleeing imminent danger, and also for people who are in refugee camps, who are unable to return to their homeland."
Read more: 12-year-old Ukrainian refugee lands a place studying piano at the Junior Royal Academy of Music
De Niese and Ball's Aspects of Love, a revival of Lloyd Webber's 1989 musical based on the 1955 David Garnett novella, is playing at London's Lyric Theatre until November.
"It does mean so much to me right now, especially because I'm doing 'Aspects of Love' on the West End," De Niese said of the special new recording. "It's a really big moment for me, stretching different muscles and being out there in the centre of London in a major show with an icon like Michael Ball.
"For me, it's like a coming together of so many different facets of my life. To put a duet like this out there for a cause, which I've already been working for so long. It's like, everything is combining in my life to make the most perfect offering."
Visit rescue.org to make a donation to the IRC.