5 reasons why Jennifer Hudson's version of 'Memory' is the best thing about the new Cats movie
30 December 2019, 12:16
'Memory' is a next-level musical song. Jennifer Hudson is one of the best pop voices of her generation. The combination of these elements in Tom Hooper's movie version of Cats is easily the best thing about a famously troubled production.
Not everyone loves the new Cats adaptation, but everyone should love 'Memory'.
As has been evidenced in almost every song she's sung since gracing the American Idol stage all those years ago, Jennifer Hudson has what you might describe as 'pipes to spare'.
In other words, if you need someone to deliver a grandstanding performance and carry an entire movie/musical/album/sporting event/anything with the sheer impressiveness of their singing voice, you'd best get J-Hud on the case.
So here we have a list of all the very important reasons why Hudson's version is a smash – have a listen (there's a short extract above), acquaint yourself, and then take some time to reflect on why it's so good.
Read more: We just watched the 'Cats' movie trailer and died nine times >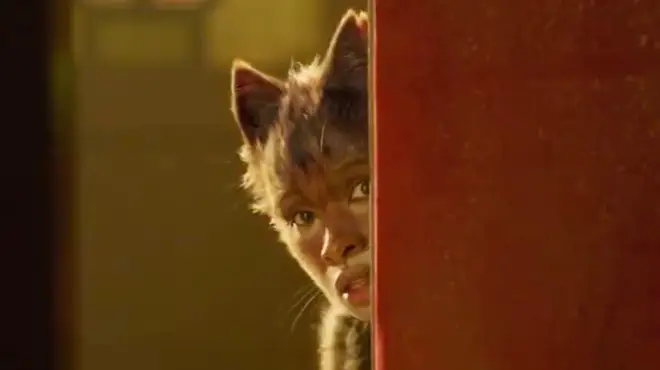 The restraint

For a song in which the listener is essentially waiting to hear the final chorus, Hudson shows incredible control in making that wait simultaneously joyous and excruciating.

Her wide vibrato, her shuddering delivery, the hint of tears at the edge of her voice: these are all distraction techniques, storytelling tics.

It's not until that final iteration of the song's title that Hudson really opens up her cords and unleashes her full power – and in a matter of seconds, she's right back down to a mere whisper, atmosphere successfully controlled and restored.

It's significantly different from previous versions

Many greats have stamped their own interpretation on ALW's seemingly endlessly malleable classic, but there's a performative intensity to Hudson's version, a seriousness and commitment that others have perhaps lacked.

Is this because it's primarily supposed to be experienced on a screen, with the camera parked right in her face so that every emotion is that bit more visible?

Could be: but our bet is that Jennifer Hudson has a rare dedication to conveying the message in her song.

Read more: How 'Cats' star Francesca Hayward went from the Royal Ballet to taking Hollywood by storm >

via Giphy

She understands the story

And perhaps this is the reason why it is so significantly different. With no wish to denigrate any previous interpretation of the song, Hudson's 'Memory' is suffused with her own experiences of fame and loss and toil: all of which just so happen to align perfectly with her character, Grizabella's careworn down-and-out vibe.

And while Hudson is by no means a has-been, her rise to fame from complete obscurity and the career trajectory she's enjoyed since certainly informs her performance. Who better to understand the pain of a talent going undiscovered?

The song is on the edge of collapse at all times

Working in tandem with Hudson's incredible restraint is the feeling that, at any moment, her voice could explode into tears of sadness. It's a hair's breadth away from falling to bits.

The tempo is glacially slow and, like in director Tom Hooper's previous Hollywood version of Les Misérables, there's an admirable devotion to realism, to allowing the various vocal imperfections to illuminate the story further (just think back to Anne Hathaway singing 'I Dreamed A Dream').

It's actually almost painful to listen to at times, a daring choice to make on such a large-scale production, but Hudson's tight control of the song is what keeps it together and makes it perhaps not a definitive version, but certainly a unique one.

Read more: Everything you need to know about the new 'Cats' movie >

Via Giphy

'Memory' is not the same thing as 'Cats'

Alright, yes, 'Memory' the song is in Cats the musical.

But Andrew Lloyd Webber's musical had a life, a reputation and a following all its own before the latest (and most controversial) movie version arrived. As the critics and audiences remain merciless in their reception of the film as a whole, 'Memory' itself enjoys a sacred and safely detached position away from the melee of bad reviews and reports of box office disaster.

'Memory' will always be impervious to criticism of Cats.
Cats is out now in cinemas.