Who is Yuja Wang, and what makes her so good at the piano?
26 September 2023, 16:43 | Updated: 26 September 2023, 17:28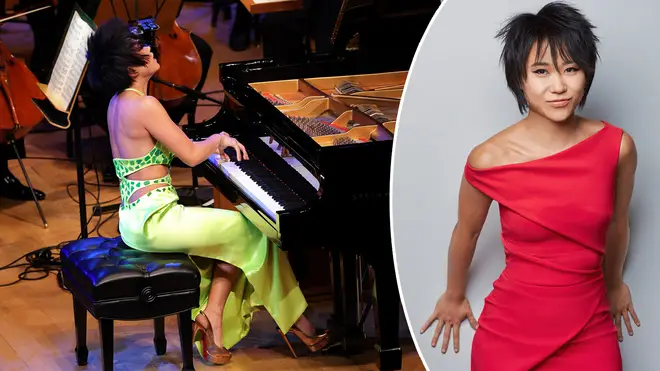 Yuja Wang is one of the most exciting pianists of the 21st century, frequently selling out world-renowned concert halls across the globe. Here's everything you need to know about her life and career so far.
One of the most dynamic performers on the classical music scene today, Yuja Wang has dominated the stage since her 2007 breakthrough, aged 21, when she stepped in for Martha Argerich as piano soloist with the Boston Symphony Orchestra.
Two years after that performance she signed an exclusive recording contract with the esteemed classical 'yellow' label, Deutsche Grammophon, and her career has progressed in leaps and bounds since.
With high-profile brand partnerships including Rolex and Steinway, multiple world premieres and four Grammy nominations (and counting!), Yuja Wang shows no signs of slowing down, and with all her magnetic energy, charm and charisma, there must only be great things to come.
Read more: The 25 best pianists of all time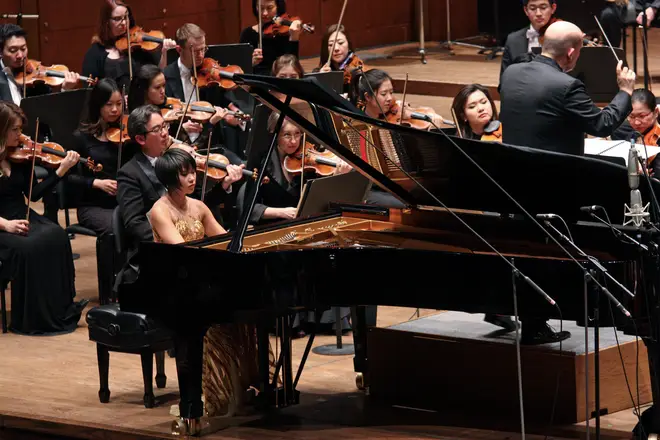 When and where was Yuja Wang born?
Yuja Wang was born in Beijing, China, on 10 February 1987, making her 36 years old in 2023. She currently lives in New York.
Her parents, who still live in Beijing, both pursued creative careers: her mother is a dancer and her father is a percussionist.
Where did Yuja Wang study music?
Yuja Wang began learning to play the piano at age six, encountering the instrument in the family home after it was given to her parents as a wedding gift. Her ballet dancer mother would also bring her to rehearsals of Swan Lake and other performances, nurturing an interest in the Russian Romantics.
At seven, Wang studied at the Beijing Central Conservatory before moving to Calgary in Canada at the age of 14 to study at the Mount Royal Conservatory. The following year, she entered the Curtis Institute of Music in Philadelphia, US, graduating five years later in 2008.
Read more: The 16 best classical piano pieces of all time
Yuja Wang, Gustavo Dudamel, LA Philharmonic – Rachmaninoff: Piano Concerto No.2: II.Adagio sostenuto
How many hours a day does Yuja Wang practise?
Yuja Wang hasn't given a specific number when asked how many hours she practises, and the truth is probably that it varies greatly depending on her schedule.
You don't get to be a pianist of Yuja Wang's stature without putting in hours of hard work. But once a performer leaves full-time education and embarks on a performing career, practice opportunities can be few and far between.
Yuja Wang has also said that much of the 'practice' she does nowadays is mental, familiarising herself with a piece and refining her interpretation of it.
In an interview shortly after the Covid-19 pandemic, Wang revealed that she didn't practice for an entire year: "I'm not very big on practice because I always have procrastinated." The pianist revealed that she "had no motivation" without her regular concert schedule, and would "rather cook, read or watch a movie".
Yuja Wang, LA Phil, Gustavo Dudamel – Rachmaninoff: Piano Concerto No. 1: III. Allegro vivace
But in preparation for her 2023 gargantuan three-and-a-half hour performance of all four Rachmaninov piano concertos, plus his 'Rhapsody on a Theme of Paganini' at Carnegie Hall, Wang told the New York Times that she had stepped back from her usual intense practice regime in the days leading up to the event.
Instead, she spent between one and two hours a day on 'lighter' pieces, such as Strauss waltzes.
Read more: How many hours a day do the world's greatest classical musicians practise?
Is Yuja Wang married?
Yuja Wang is not married. She is currently in a relationship with Finnish conductor and cellist, Klaus Mäkelä.
Mäkelä's own impressive performance career is on the up, currently holding positions as chief conductor of his native Oslo Philharmonic and music director of the Orchestra de Paris, and in June 2022 he was appointed chief conductor-designate of the Netherlands' Royal Concertgebouw Orchestra.
The duo have collaborated in performance together many times, and Wang seemingly announced their romance on New Year's Eve in 2022, sharing a picture of the pair celebrating to her Instagram account.
What is Yuja Wang known for?
Yuja Wang is best known for her virtuosic piano artistry, in particular for her Rachmaninov interpretations, as well as her magnetic stage presence, and a stylistic flair in her concert appearances, which often include a costume change during the interval.
In January 2023, Wang undertook a Rachmaninov 'marathon', performing all four concertos in addition to the composer's 'Rhapsody on a Theme of Paganini' in a three-and-a-half hour concert at New York's Carnegie Hall, alongside the Philadelphia Orchestra and conductor Yannick Nézet-Séguin.
The following month, Yuja Wang joined the Los Angeles Philharmonic and Gustavo Dudamel for their Rachmaninov Festival, performing the same works across five concerts, which were recorded by Deutsche Grammophon and released to high acclaim in September that year.
When it comes to more 'Germanic' piano repertoire – by the likes of Bach, Mozart and Beethoven – Wang says she needs more time. Their music, she told the New York Times, "needs much more maturity and growing as a person. I can play it for sure, but it's not at the quality that I want.
"Everyone plays it, and if I don't bring something meaningful to it, then I might as well not play it at all."
Yuja Wang is also known for her captivating stage presence and dazzling performance outfits. A fan of bright colours, sequins, and signature platform Louboutins, Wang's usual stage attire is as striking to the eyes as her music is to the ears.
An enchanting performer from the moment she steps on stage to her stylish, almost balletic, final bows, Wang has previously told The Guardian: "If the music is beautiful and sensual, why not dress to fit? It's about power and persuasion."