Royal Liverpool Philharmonic Orchestra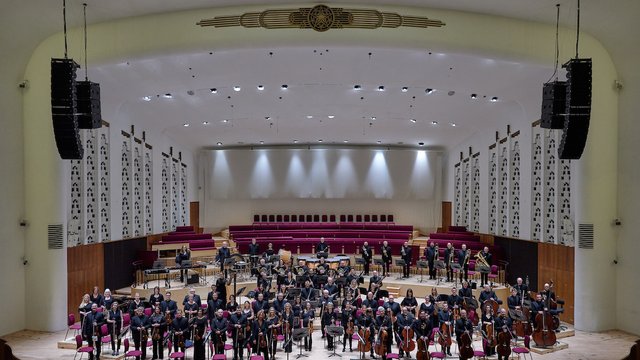 The Royal Liverpool Philharmonic has been at the heart of Liverpool's cultural life for generations and gives approximately 70 concerts from September to June in its home, Liverpool Philharmonic Hall, as well as giving concerts in venues across the City, including its two Cathedrals.

The orchestra plays a regular concert series at Preston Guild Hall and Blackburn King George's Hall, and regular plays in venues and concert halls across the UK and abroad. It is the oldest surviving professional symphony orchestra in the UK, with origins dating back to 1840.

In November 2001, the Liverpool Phil was the first UK orchestra to enter into a ground-breaking partnership with Classic FM which saw it adopted as the station's 'Orchestra in North West England'.

With a shared desire to build new audiences for classical music, Classic FM and the Liverpool Phil have since worked together on a wide range of initiatives, including the introduction of the Classic FM Concert Series which have successfully encouraged people to go out and enjoy live classical music, many for the first time, at Liverpool Philharmonic Hall, and at the orchestra's performances in venues across the UK.

Its imaginative approach to programming has seen the orchestra collaborating with an eclectic range of artists from Sir Paul McCartney, Elvis Costello and Toumani Diabaté. In 2006 the charismatic young Russian, Vasily Petrenko, took up the baton as principal conductor, becoming Chief Conductor in 2009.

After 15 years in Liverpool, Petrenko took the helm of the Royal Philharmonic Orchestra in London in 2021, and became RLPO's conductor laureate. Venezuelan conductor Domingo Hindoyan took the reins and became chief conductor of the Royal Liverpool Philharmonic in 2021.

Hindoyan joins a distinguished line of musicians who have led the Royal Liverpool Philharmonic Orchestra during its illustrious history including Max Bruch, Sir Charles Hallé, Sir Henry Wood, Sir Malcolm Sargent, Sir John Pritchard, Sir Charles Groves, Walter Weller, David Atherton, Marek Janowski, Libor Pešek KBE, Petr Altrichter and Gerard Schwarz.
View more