'If it's a good fight, you just keep doing it' – Edinburgh International Festival director Nicola Benedetti on music education
25 April 2023, 17:37 | Updated: 27 April 2023, 14:00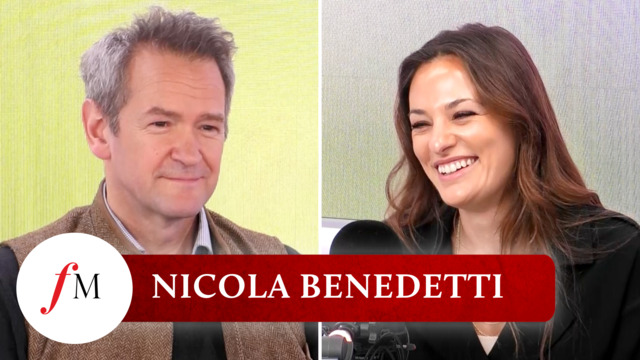 Nicola Benedetti talks being the first woman director of the Edinburgh International Festival
Nicola Benedetti, who is the first woman, first Scot and first high-profile soloist to lead the Edinburgh International Festival, sits down with Classic FM's Alexander Armstrong to talk about shaking things up for her first programme in 2023.
Superstar violinist, Nicola Benedetti, packs out concert halls across the world with her violin recitals. But this year, she is wearing a different hat as she takes the helm of the Edinburgh International Festival, as its first-ever woman and Scottish director.
When asked originally if she'd be interested in the job, "My first thought," Benedetti tells Classic FM's Alexander Armstrong in an exclusive interview, "Was they can't possibly be asking me if I'm interested in this role. I thought they were asking my opinion for other people!
"Once I got my head around the notion of that shift, thoughts that have subliminally been accumulating since I was 14 and started touring started, just flowing out.
"But that process is so useful, to start to think, can I feel and see myself being able to do a good job and to contribute well to an organisation that is 75 years old, has unwavering consistency in its quality, and its delivery and communication?"
Benedetti's 2023 programme, which was revealed on 24 April, will focus on themes of community, hope, and the perspectives of others.
Her fresh ideas are based on the festival's original, post-war aims: rebuilding society through art, finding hope in adversity and welcoming the world in all its diversity.
Read more: 'Trailblazing' women of Edinburgh International Festival share hopes for classical music
'I'm a big believer in everybody's creativity'
Benedetti's programme will centre around the magic of experiencing music and arts in a live, shared environment.
After two years of relying heavily on an online streaming offering in a post-Covid world, the violinist is keen to "make people feel involved".
"The 75th anniversary was such a moment for the festival," she tells Armstrong of last year's programme. "It was huge and celebratory and against unbelievable adversity in a way, because so many cultural or all cultural institutions grappling for their sort of renewed place after COVID and economic hardship and infrastructural changes."
This year, she says, is about "starting a new path and a new journey" off the back of so much turmoil and change.
Read more: Beethoven symphony dropped from Edinburgh International Festival following Covid-19 mask disagreement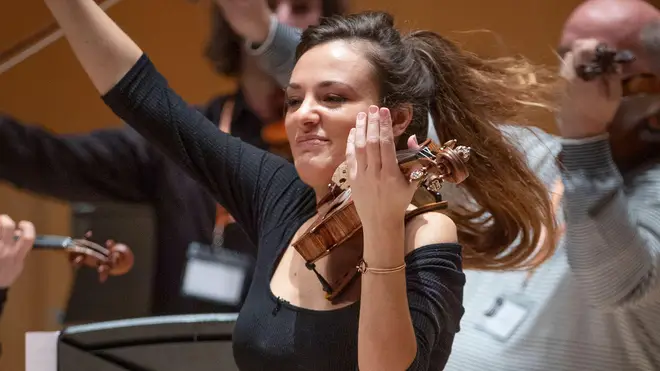 "The festival family, our audiences, me personally, who has this direct line to the audiences in Edinburgh, and of course, all the artists that we're inviting this year – we are asking something collectively.
"And I'm a big believer in everybody's creativity. I want to hear from people."
From 4 to 27 August, over 2,000 performers from 48 countries will deliver performances from the worlds of classical music, dance, arts and beyond. Festival-goers will have a choice of 295 different events to attend.
The Grammy-winning musician has promised to present the deepest possible experience, with the highest quality performances, to the broadest possible audience.
Benedetti also pledges to connect with people who "don't necessarily feel comfortable" in concert hall environments.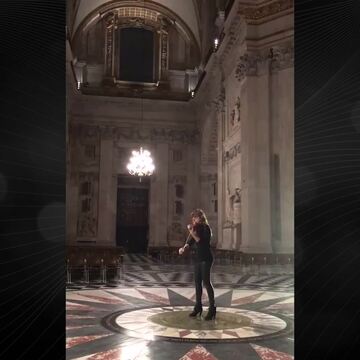 Nicola Benedetti plays Bach's 'Chaconne' in St Paul's Cathedral, London
'If it's a good fight, you just keep doing it'
Alongside her performing career, Nicola spearheads the Benedetti Foundation, which is dedicated to supporting and inspiring both music teachers and young musicians, and crucially, the inclusion of music and the arts, in schools and beyond.
"Every week at the foundation we get another call to give statements against a cut here, or a dismantling of this there," Benedetti says. "I think it's a fight that you just have to renew over and over and over again. If it's a good fight, you just keep doing it."
From her work in campaigning for music education – a "fight" she has been renewing since her early days as a performer – Benedetti has learned how challenging it can be when resources are squeezed.
"We see so many cuts and so many kinds of threats to institutions, cultural and especially classical music institutions at the moment but also in the role of theatre and dance, and it is obviously not a time to be cutting funds.
"But it is a time to try to be bold and radical with forging a new direction – but do it together. Bring people in and have trust in people and involve people in where you're going."
Read more: Nicola Benedetti: 'There is no more valuable position than that of a music teacher'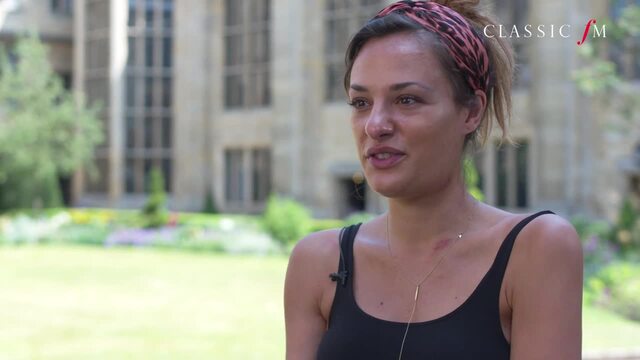 Nicola Benedetti on what she loves most about youth orchestras
'A lifelong passion'
Hidden among the multiple premieres, appearances from leading Scottish artists, and performances from resident orchestras – the Budapest Festival Orchestra, London Symphony Orchestra and Simón Bolívar Symphony Orchestra of Venezuela – is an opening performance including Benedetti herself.
It's the only appearance she will make as a violinist at the 2023 festival. Asked how she has found the journey from performer to director, Benedetti replies: "I'm absolutely clear and unembarrassed about the things that I have not done.
"There are the things that you can't possibly learn and absorb when you practise an instrument for five to six hours a day! That takes up so much of your time and energy and focus in life, that there are lots of things you miss in the process.
"It's been a fascinating six months. It's been a lot of juggling, and as you can imagine, some pretty exhausting days, but of course, your energy really depends on how you feel about the thing you're doing.
"And there's so much excitement and fascination and discovery involved in this role. It's a lifelong passion to want to contribute more deeply to the cultural landscape of the UK, but in particular of Scotland.
"And of course," she tells Armstrong, "This is an enormous opportunity to be able to do that."