Nicola Benedetti: who is the star violinist's family, what are her best recordings and what violin does she play?
18 August 2023, 10:28 | Updated: 21 August 2023, 08:57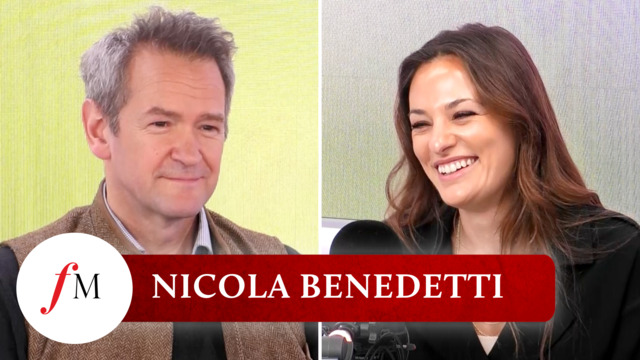 Nicola Benedetti talks being the first woman director of the Edinburgh International Festival
Nicola Benedetti is a Scottish violinist, music education ambassador, and one of the leading classical musicians of her generation.
Superstar violinist Nicola Benedetti CBE is one of today's most in-demand soloists, with countless strings to her bow.
On top of selling out concert halls around the world, Benedetti has founded her own orchestra, is a tireless advocate for better music education, and is the first woman and Scottish person to direct one of Europe's biggest arts festivals, the Edinburgh International Festival.
Born in Scotland with Italian heritage, Benedetti began violin lessons aged four and has gone on to tour internationally with some of the world's greatest orchestras and conductors, and win multiple awards, including a Grammy, for her performances.
Nicola once said her motto is, "Enhance your own ability, be the best you can be – but don't keep that for yourself. Share it, expose it, give it and try to enrich other people with what you have managed to achieve."
Here's all you need to know about this extraordinary musician.
Read more: 'If it's a good fight, you just keep doing it' – Nicola Benedetti on music education
When was Nicola Benedetti born?

Nicola Benedetti, 36, was born on 20 July 1987 in Irvine, a town in West Kilbride, Scotland.

Despite travelling all over the world, Nicola says she hasn't found any country that's more beautiful than Scotland.

Read more: Violinist Nicola Benedetti on what classical music could learn from jazz gigs

Nicola Benedetti a native of West Kilbride, stands outside Portencross Castle with her 'Earl Spencer' Stradivarius violin.

Picture: Alamy

Where does Nicola Benedetti live?

Nicola Benedetti used to live in London but is now based in Surrey.

"I get excited about going home, and I can't say that I ever really felt that when I lived in London," she recently said.

Nicola Benedetti used to live in London, but now resides in Surrey.

Picture: Alamy

Who are Nicola Benedetti's family?

Nicola has Scottish and Italian heritage, being born to an Italian father, Giovanni Benedetti, and a Scottish mother, Francesca Benedetti. Giovanni Benedetti is a retired businessman and one of Scotland's best-known entrepreneurs.

During school holidays, Nicola and her sister Stephanie had to work for three hours every morning before they could go out to play. "Think how much more fun that made the afternoons," Nicola once said.

Nicola stands with her father Giovanni, her sister Stephanie, and her mother Francesca Benedetti.

Picture: Alamy

What violin does Nicola Benedetti play?

The violin Nicola plays is a Stradivarius called the Gariel, made in 1717. It's worth an estimated £2 million and previously belonged to an ancestor of Princess Diana.

Nicola has said if a fire broke out in her home, she would grab her violin before her cat. "In an ideal world, all three of us would escape unscathed," she says. "But if I had to choose between the cat and the violin the £2million Stradivarius would have to come first."

When performing regularly, Nicola practises her violin for between three and seven and a half hours a day.

Read more: How many hours a day do the world's greatest classical musicians practise?

Nicola Benedetti performs Loch Lomond at 2014 Commonwealth Games

Where did Nicola Benedetti study music?

Nicola Benedetti began violin lessons at the age of four, and at the age of eight, became the youngest ever leader of the National Children's Orchestra.

By nine, she had already passed the eight grades of musical examinations.

At the age of 10, she started attending the Yehudi Menuhin School in Surrey. She went on to win the BBC Young Musician of the Year, aged 16.

Nicola Benedetti aged 17, shortly after winning BBC Young Musician of the Year.

Picture: Alamy

What albums has Nicola Benedetti released?

Nicola Benedetti has released 12 albums. Her 2012 album The Silver Violin was the first solo instrumental album in decades not only to top the classical charts but also enter the top 30 pop album charts.

Her most recent album Baroque (2021), recorded at Battersea Arts Centre, celebrated the joy of Vivaldi, Corelli and Geminiani after a long period of silence for the music industry amid the coronavirus pandemic.

Nicola Benedetti's most acclaimed releases include her Grammy-winning 2019 recording of Wynton Marsalis's Violin Concerto and Fiddle Dance Suite, her 2016 album of Shostakovich and Glazunov Violin Concertos, and her 2012 Silver Violin album which put the Korngold violin concerto at its heart, creating an almost viral effect among violinists.

Nicola Benedetti wins Best Classical Artist at The Global Awards 2019

Did Nicola Benedetti record with Wynton Marsalis?

In 2019, Benedetti released the first recording of an extraordinary new violin concerto by jazz trumpeter Wynton Marsalis.

Nicola took home her first Grammy Award in January 2020, winning the Best Classical Instrumental Solo for her recording of Marsalis' Violin Concerto and Fiddle Dance Suite.

The pair have long enjoyed a close friendship and musical relationship, and they both believe in fighting, above all, for one thing: music education.

Nicola Benedetti won a Grammy for her recording of Wynton Marsalis' Violin Concerto.

Picture: Getty

What has Nicola Benedetti done for music education?

Nicola Benedetti says her first love is music and her second love is educating people through the art of music. She is not afraid to express her anger about the provision of music in UK schools, and once said: "Decisions have been made, especially in the light of funding cuts, that are, I think, catastrophic to our future as a nation."

In 2019 she established the Benedetti Foundation, dedicated to supporting and inspiring both music teachers and young musicians, and crucially, the inclusion of music and the arts, in schools and beyond.

Since its launch, the Foundation has worked with over 50,000 participants, aged two to 92, from 104 countries through its in-person workshops and online sessions for young people, students, teachers and adults.

In 2023, Nicola told Classic FM's Alexander Armstrong: "Every week at the foundation we get another call to give statements against a cut here, or a dismantling of this there," Benedetti says. "I think it's a fight that you just have to renew over and over and over again. If it's a good fight, you just keep doing it."

Nicola Benedetti | Why Youth Orchestras Are So Special | Classic FM Meets

What is Nicola Benedetti doing now?

In 2023, Nicola Benedetti has briefly put her violin to one side, to direct one of Europe's biggest arts festivals, the Edinburgh International Festival.

The first woman and Scottish person at the helm of EIF, Benedetti has vowed that under her direction, the festival will connect with new audiences and create deep, shared experiences among concertgoers.

After two years of online streaming, 2023's festival, Nicola said, is about "starting a new path and a new journey" off the back of so much turmoil and change.

'If it's a good fight, you just keep doing it' – Edinburgh International Festival director Nicola Benedetti on music education.

Picture: Mihaela Bodlovic
You can hear many of Nicola Benedetti's greatest recordings on Classic FM – listen live here on Global Player.