Young musicians around the world have just launched a manifesto for the arts - and we're totally here for it
4 May 2018, 17:29 | Updated: 4 May 2018, 17:31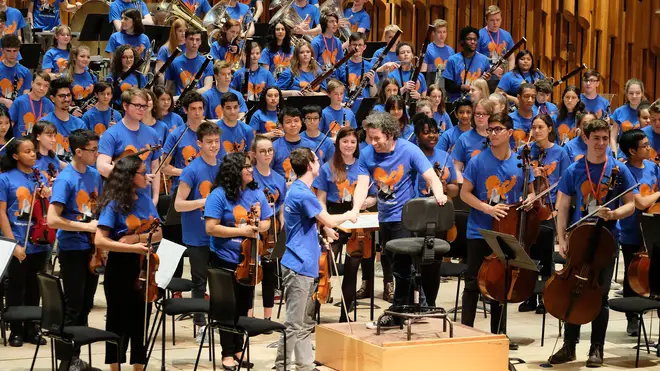 Musicians from the National Youth Orchestra of Great Britain, the Youth Orchestra Los Angeles, Sage Gateshead, Big Noise Raploch, Bristol Plays Music and Barbican Guildhall Creative Learning got together to share ideas and bring about change in the arts. Here's what they came up with
On Friday 4 May, the stage at the Barbican was taken over by a vast orchestra (including 10 bassoons and tubas!), for an open rehearsal led by the world-famous conductor Gustavo Dudamel.
The event was to mark the launch of 'Tuning into Change', a project that had brought together musicians from all over the UK – and a handful from Los Angeles – to share ideas about what they'd like to see change in the arts.
Members of Classic FM's Orchestra of Teenagers, the National Youth Orchestra of Great Britain, were among those who performed Arturo Márquez's Danzón No.9.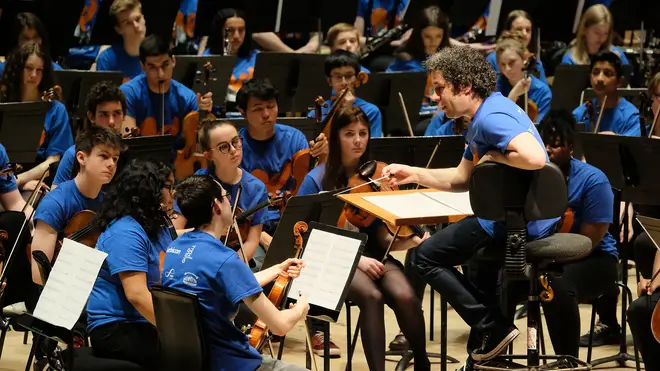 On each seat in the Barbican's hall was a manifesto that was the result of six months' work by the musicians.
In a passionate call for action, the manifesto says:
"We will be advocates for the positive nature of the arts… We're proof that, regardless of our age, we as young people are just as capable of generating and executing ideas to change the world."
Kourosh Ahmadi, a member of the National Youth Orchestra of Great Britain said: "We want to make classical music more accessible I think people are missing out if they're not exposed to classical music from families. If it's more accessible to them then they might pass it on and get interested.
Georgia Russell, who's also a member of the NYO, said: "One thing I'd like people to take away from the manifesto is listening to each other and not forcing classical music on people, but inviting people to listen to it.
"It is something that can be intimidating and quite closed off, so we should make an effort as classical musicians, to invite people to listen to it – through film music and music that's influenced by classical music, like Clean Bandit."
In a foreword to the manifesto, Gustavo Dudamel said: "Art is the education of the soul. Art is beauty – an ideal of harmony in the world. It is also a tool – a means for young people to discover the potential of their own creative capacities… Faced with challenges, young people – provided they are properly supported – will always find the brightest solutions."
Speaking after the rehearsal, chief executive and artistic director of the National Youth Orchestra of Great Britain, Sarah Alexander, said:
"We really believe that young people can be inspiring to each other, can bring each other along a journey in the arts. That's partly about National Youth Orchestra of Great Britain musicians sharing their art form with other teenagers and those teenagers then have that breakthrough excitement about the art form.
We want to see a massive movement of young people in this music, to see that joyful community extending beyond the concert platform, right to the heart of what young people are listening to."