Meryl Streep reciting poetry to Yo-Yo Ma's cello is the lockdown tonic we all need
5 May 2020, 12:48 | Updated: 5 May 2020, 13:02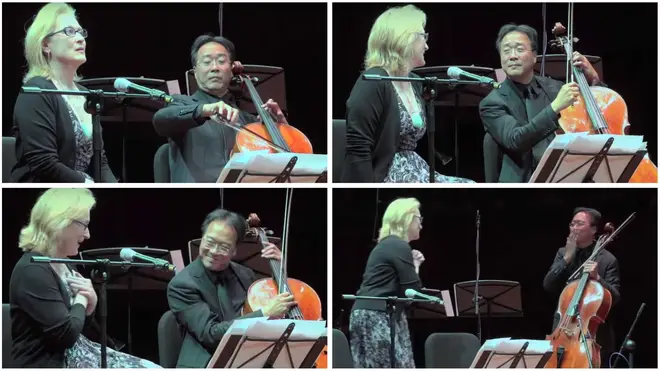 A Hollywood legend treats us to a poetry reading, soundtracked by one of the great musicians and culture-champions of our time. We are not worthy.
Hollywood legend Meryl Streep once recited poetry to an audience in China while Yo-Yo Ma played the cello – and it's the lockdown tonic we all need.
The iconic performance took place back in 2011 and is currently doing the rounds again online. It was part of the US-China Forum on the Arts and Culture that took 16 American stars to China to participate in four days of cultural exchange.
Streep moved the audience with two beautiful readings, which included Martha Graham's poem, A Letter to Agnes De Mille.
The other reading was of Luzhai, written by Chinese poet, musician, painter and politician Wang Wei, who lived during the Tang dynasty and was one of the most influential men of his time.
Streep recited the words: "There seems to be no-one on the empty mountain. And yet I think I hear a voice, where sunlight entering a grove shines back to me from the green moss.
"There is a vitality, a life force, a quickening that is translated through you into action – and because there is only one of you in all time, that expression is unique.
"If you block it, it will never exist through any other medium and it will be lost. The world will not have it. It is not your business to determine how good it is, nor how valuable it is, nor how it compares to other expressions."
Her words are teamed with beautiful music from cello virtuoso Yo-Yo Ma, who played George Crumb's Sonata for Solo Cello.
Streep continued: "It is your business to keep it yours, clearly and directly, to keep the channel open. You do not even have to believe in yourself or your work. You have to keep open and aware directly of the urges that motivate you.
"Keep the channel open! No artist is ever pleased. There is no satisfaction whatsoever at any time, there is only a queer, divine dissatisfaction – a blessed unrest that keeps us marching and keeps us more alive than the others."
Directed by Damian Woetzel, the performance was arranged by the Asia Society's Centre on US-China Relations and The Aspen Institute.