Violinist Nicola Benedetti reveals her secret warm-up tool is... a hair dryer
17 June 2019, 15:41 | Updated: 17 June 2019, 15:48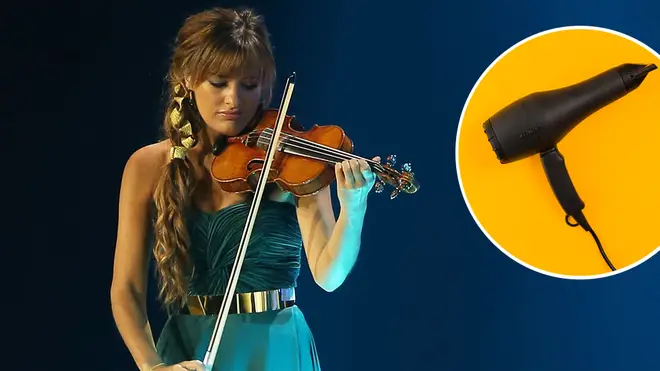 An international superstar always strives to perform the very best that they can – and for Benedetti, that means enlisting the help of a popular beauty device.
Violinist Nicola Benedetti has revealed that a hair dryer is her tool of choice for warming up before a classical performance.
The talented virtuoso admits that using a hair dryer is an important part of her routine before going on stage, as it stops her hands from freezing up in cold changing rooms.
The 32-year-old told The Sunday Post she gets chilly to the "ends of [her] fingertips", so relies on the beauty device to help her play her £2m Stradivarius.
She added: "I don't know if I have a blood circulation problem, but I tend to find, especially if I am at all tense, nervous, or have underslept, no blood goes to my hands whatsoever. They get very cold and very stiff.
"I hug myself, so it gets blood flowing to the ends of my fingertips. I regularly put my hand in pretty warm water and I also take with me, everywhere, a hairdryer.
"I get really cold, really easily, and especially if I am nervous or tired – the tiredness is common."
And Benedetti isn't the only classical star to have a pre-show ritual – superstar pianist Lang Lang likes to pause and count to five before he steps out in front of an audience.
Pianist Martin James Bartlett also told Classic FM: "Usually before I perform, I have this thing where I make sure that my fingers never touch any other key.
"If I'm warming up for a passage at the beginning [of a piece], I play very carefully like this [see video], so I don't touch any of the outer-lying keys; it's just a psychological thing."
But for Italian-Scottish violinist Nicola Benedetti, who first picked up the instrument aged eight, there's nothing better than a quick blast of hot air to ensure her performance runs smoothly.