Violin-making students to be deported after parent college is downgraded by Ofsted
26 June 2017, 12:09 | Updated: 26 June 2017, 12:10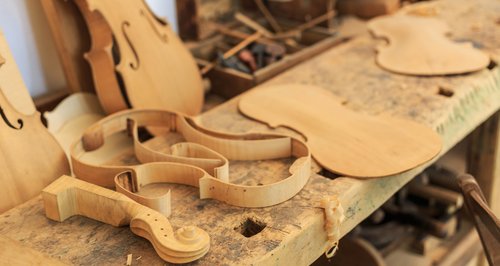 Four students at the Newark School of Violin-Making and Repair, part of Lincoln College, have had their visas cancelled after the college was labelled as 'requiring improvement' by Ofsted
Picture: iStock
Lingtzu Chen, Meng-Hsui Tsai (both from Taiwan), Daniel Chick from Australia and Yasuhiro Nakashima from Japan have all had their international student visas cancelled by the Home Office and will be deported on 31 July, part-way through their studies.
The Newark School of Violin-Making and Repair is part of Lincoln College, which was last year labelled as 'requiring improvement' by Ofsted, the government's department responsible for inspecting schools, colleges and other services for young people.
One of the consequences of the poor Ofsted report is that the school loses its Tier Four Status, which allows it to sponsor international students for their visas.
The School of Violin-Making and Repair was not inspected as part of Ofsted's visit.
"It's like I've wasted two years"
Speaking to the Newark Advertiser, Lingtzu Chen said:
"It is like I didn't do anything and it is two years wasted. When I came here I trusted the school and the Government and now it is just not happening for me. I can't do another course. I don't have any more money for another school."
A spokesperson for the college told the paper: "The School of Musical Instrument Crafts is unable to accept new overseas students until such time that it regains its Tier Four Status. A strong focus on further improving education should mean an Ofsted 'good' grade when it is likely to be re-inspected in the spring. This will lead to it regaining its tier four status.
"As a result of these developments four overseas musical instrument crafts students will not be able to stay in the country to complete further studies. All will be given full accreditation certificates for the years they have completed, made an offer of compensation and be offered guaranteed deferred places at a significantly discounted rate when we regain our status.
"We are also exploring alternative UK training providers who could help them complete their studies. We are continuing to develop and invest in The School of Musical Instrument Crafts and we are working with Hull University to validate a degree-level course."
The Newark school was founded in 1972 and is regarded as one of the best in the world, with graduates going on to work at auction houses and violin-makers.