Mighty jazz musician plays tiny soprano trombone in ferocious brass solo
4 April 2023, 15:09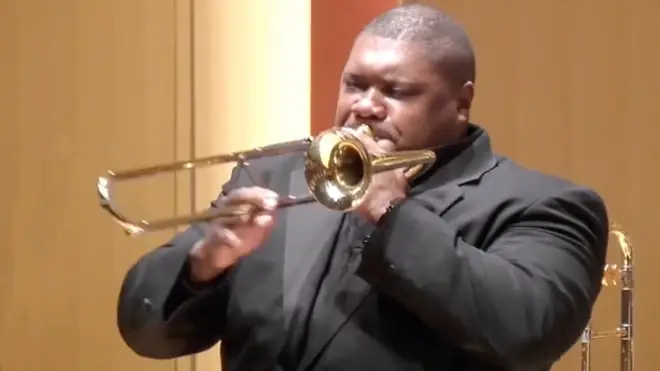 A giant of jazz brass gives an epic masterclass in virtuosity and style... whilst playing a surprisingly small brass instrument.
Jazz giant or tiny trombone? Well, both actually.
This is an incredible video that has introduced many to the skills of famed instrumentalist Wycliffe Gordon, as well as one of his favourite instruments: the soprano trombone.
It's just one of Gordon's incredible performances on the pint-sized brassy slider, while on solo duties with Central Washington University Jazz Band at the 2013 CWU Jazz Festival, under the direction of Chris Bruya.
After a hugely virtuosic 32-bar solo break, the band joins with a thundering fast swing. Gordon's improvisation shows off the range and timbral quirks of the higher-pitched trombone, with all manner of runs, vocal screams and slides. Infectious stuff – just watch below.
Read more: Jazz virtuoso plays mind-blowing clarinet solo while casually playing in street band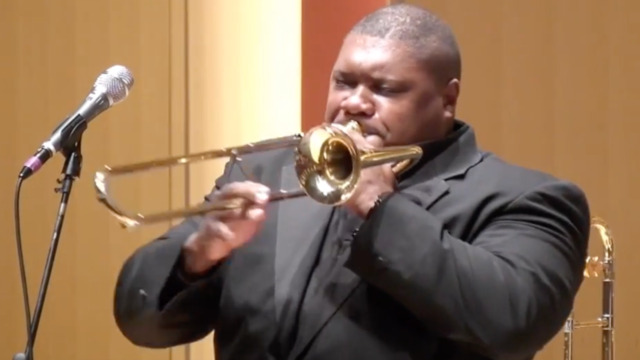 Wycliffe Gordon plays epic soprano trombone solo Central Washington University Jazz Band
The piece is entitled Swing That Music. And it was indeed swung (you can watch the full performance here).
A standard trombone has a normal chromatic range from the E below the bass clef, to the B flat above middle C. The soprano trombone's range sits broadly an octave higher, and can reach the high Cs famously sung by trebles in Allegri's Miserere.
But it's not just the range that's impressive – it's the sheer power, energy and musicianship.
"Any more air and that thing is gonna EXPLODE," writes Chris Castellanos, who shared the footage to Facebook back in 2017. It has since amassed over 2.5 million views.
Gordon also sings and plays didgeridoo, trumpet, tuba, piano and of course the plain old wonderful regular trombone. He has led the Jazz at Lincoln Center Orchestra, and has been part of hundreds of recordings and tours regularly with his quintet.
In 2020, Jazz Journalists Association named him 'Trombonist of the Year' for a record-breaking 13th time. Smashing records, as well as breaking the Internet, one solo at a time.