Toddler hears a violin for the first time – and his reaction is just beautiful
9 April 2019, 10:47 | Updated: 9 April 2019, 10:51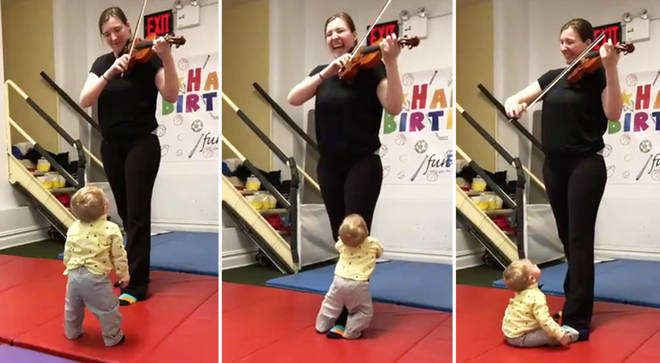 A mother has posted this adorable video of her 11-month-old baby entranced by a violinist playing music.
The video, posted to Twitter by mother and musician Rachel, shows the beautiful moment her little boy ran up to the sound of a violin.
The boy, who is 11-month-old Thomas, sits by the violinist's feet, listening in awe to the sound of her playing Elvis Presley's 'Can't Help Falling in Love'.
He proceeds to stand up, gazing up at the violinist in amazement, before running over to hold her legs and hug them.
Thomas was attending a music class for babies and young children with his mother in New York City.
Rachel posted the video to her Twitter page on 27 March with the caption 'My baby's reaction to hearing a violin for the first time…'.
She told ABC News: "I was so moved by Thomas' reaction to the violin. He was totally mesmerised by Laura's playing. He showed her in his own way how much he loved the music."
The viral clip, which features the violinist Laura Zawarski, has been viewed by nearly three million people on Twitter.
One user wrote, "He's going to be a musician", while another said "Get that baby a violin!".
Nula Suchet, the artist and wife of Classic FM presenter John Suchet, said on Twitter: "This made me cry from the sheer joy in the baby."