Two T-Rexes innocently paddle along a river listening to the 'Jurassic Park' theme
3 July 2020, 14:51 | Updated: 3 July 2020, 15:28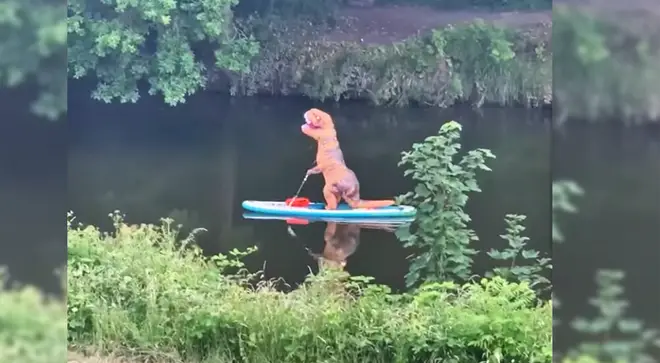 Forget burbling barges, it seems prehistoric paddlers are the new river residents…
The mighty lizards that once ruled the planet have swapped their famous ferocity for a more subdued pastime.
Instead of roaming the plains and roaring, the terrifying T-Rex can now be found paddle boarding down rivers in Bristol – accompanied by the Jurassic Park theme of course.
And we can't think of any other scenario where John Williams' iconic score would be more fitting…
Watch the hilarious situation below.
Nothing to see here except two T-Rexes paddling along a Bristol river with the Jurassic Park theme playing 👀 🎥 : @benjyoak on Instagram

Posted by Best of Bristol on Monday, 29 June 2020
Read more: John Williams conducts the Vienna Philharmonic in exhilarating 'Jurassic Park' theme >
Unfortunately, the two fearsome creatures in the video weren't actually scaly giants – but jokers dressed in costumes.
And it's all just a little bit of fun, which we're sure would've tickled a passerby or two.
It seems the Jurassic Park theme has been given the thumbs up by these two T-Rexes (even if they are from the Cretaceous period really, just sayin')...