A top orchestra performed at a train station using objects from lost property
22 November 2018, 16:18 | Updated: 22 November 2018, 16:22
Members of the Royal Philharmonic Orchestra performed a new piece of music using objects that had been left behind on trains, including a car tyre, a bicycle pump and a surfboard.
The orchestra teamed up with East Midlands Trains to create 'An Ode To My Former Owner', performed using items that were handed in to the company's lost property service.
The piece is made up of exactly 11,304 notes – the number of items lost each year on East Midlands Trains.
Malcolm Wilson, General Manager of the Royal Philharmonic Orchestra (RPO) called it "an experience to remember".
"The Royal Philharmonic Concert Orchestra has performed with lots of weird and wonderful instruments over the years but never an inflatable cactus and surfboard," he said.
Every year, train users across the UK lose over 38 million items on trains, amounting to £906 million of property.
Four pieces of priceless art, two seven-foot surfboards, a life-size cut out of US president Donald Trump, a pork chop and a six-foot inflatable cactus plant have all been abandoned on trains over the last 12 months.
A number of instruments have also been left behind, including guitars, harps and drums.
As part of its research into the amount of lost property left at train stations, East Midlands Trains asked the RPO to help promote its Found It! Service – a free online service which allows customers to track and claim their lost items. The train company hopes the RPO's performance will help owners recognise their lost items.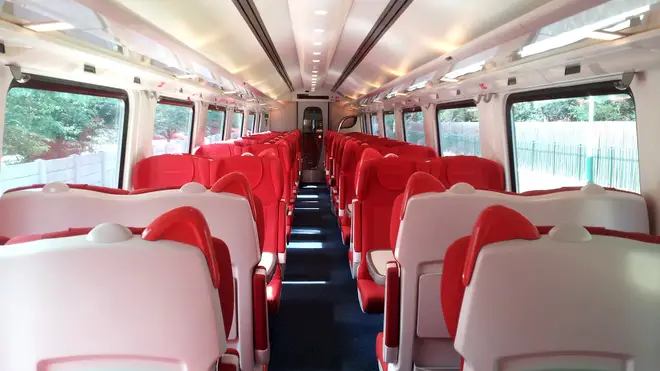 More common objects left behind in the last year include 766 backpacks, 644 coats, 683 mobile phones, 593 wallets and nearly 400 umbrellas.
"We've all been there – you hop off the train when it reaches your destination, but your keys, phone or wallet carry on the journey without you," said Jake Kelly, managing director of East Midlands Trains.
The company's study found 25 per cent of possessions remain permanently unclaimed.
Respondents admitted to leaving an average of two items on board every single month, blaming their forgetfulness on falling asleep (13 per cent) distractions from other passengers (20 per cent) or having one too many to drink (10 per cent).