4 hilariously awkward page-turn fails in classical concerts
9 February 2020, 12:31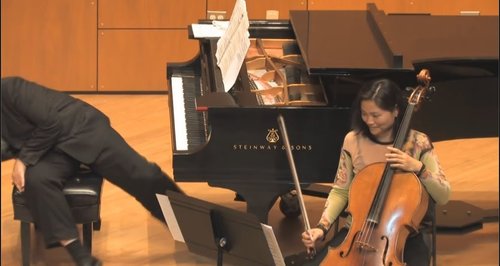 Page-turners: they are inconspicuous, silent and efficient. They are not part of the concert, merely a facilitator to the musicians. But not in these cases…
Poor page-turners. When they do an excellent job, they go unnoticed, but when they slip up, they are exposed for all to see. Basically, they get all of the stress and none of the applause.
These are our favourite awkward page-turning videos on the Internet.
1. Pages unravel as four pianists play "Zwei Klaviere zu acht Händen", a Tarantella by J.G. Rheinberger
Remember when you couldn't afford to buy full books of music, so you stuck sheets of music together with sellotape?
Yeah, these pianists had the same idea… only it didn't go so well for their page-turner.
2. Yuja Wang delivers an almighty death stare to her page turner
This video shows two hairy interactions between Wang and her page turner, who isn't *quite* as present as Wang would have liked...
3. A forgetful page-turner leaves the chamber group waiting
While performing literally one of the most challenging pieces of chamber music ever – Poulenc's Sextet for Piano and Wind Quintet – this poor page turner forgot to turn at a particularly fiendish moment.
So the pianist took it upon himself to try and turn the page instead… and it didn't exactly go to plan.
4. Anna Reszniak saves the day at a concert with Christian Tetzlaff and Lars Vogt
During a concert given by violinist Christian Tetzlaff and pianist Lars Vogt, page-turner Anna Reszniak (usually a violinist in the Nürnberg Symphony Orchestra) turned disaster into triumph when the musicians' pages started flying around the stage.
Well done, Anna. You are awesome and you can turn our pages any time you like.