Watch an incredible light display soundtracked by Beethoven's 9th from the Elbphilharmonie
22 January 2017, 10:59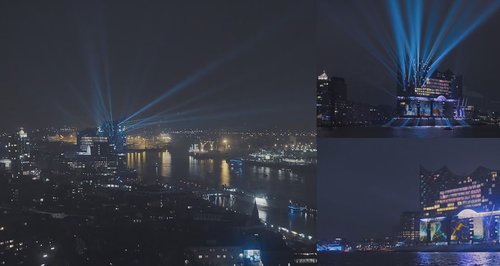 What will this magical concert hall do next?
If the breathtaking architecture and spectacular views of Hamburg's newest concert hall, the Elbphilharmonie, wasn't enough - they have now released a video of a truly wondrous light display emitted from the body of the building.
During the opening concert of the Grand Hall on the 11th January, the Elbphilharmonie hosted a one-of-a-kind light display on the buildings facade visualising the music played inside the concert hall in real time into colours and shapes for those who were not fortunate enough to have a seat inside the hall itself.
Lasting the entirety of the concert, approximately two hours, the display was made up of twenty-eight powerful projectors emitting a total of 800,000 ANSI lumen, which created an overall resolution of 17,400 x 2,160 pixels, coupled with more than 800 spotlights to create 3D visuals. An algorithm was developed for each of the eleven concert pieces alongside sixty-four live audio tracks directly from the concert, which with the help of twelve synchronised high-performance PC's enabled the worlds of light, images and sound to come together in real time.
The video below is set to a stunning recording of the finale from Ludwig van Beethoven's Symphony No. 9 performed by the Elbphilharmonie's orchestra in residence, the NDR Elbphilharmonie Orchester led by Thomas Hengelbrock. A real Ode to Joy!
If you haven't seen the inside of the phenomenal Elbphilharmonie concert hall, take an epic tour on a drone here.