This guy took that viral celebrity 'Imagine' video – and made it a work of absolute art
27 March 2020, 13:35
Celebrities singing Imagine but there's a whole band
An avant garde jazz medley for the times… from a true musical great.
When celebrities around the world connected behind-the-scenes, and selflessly belted out a few lines of 'Yesterday' for our benefit in quarantine, reactions were mixed.
Some people said "beautiful" about the video, which actor Gal Gadot posted on her Instagram, while others were like, "Nothing like rich famous people singing 'imagine no possessions' in their mortgage free homes as the rest of society queue at Lidl for broken biscuits" and "Hey celebs, we don't want to be sung to. We want you to use a million or two of your money and order ventilators, masks, and gloves from the manufacturers then donate them to a hospital."
Maybe the celebs were donating, and anyway, we're grateful. Because now we have this – the latest ingenious medley from muso YouTuber, Charles Cornell (watch above).
Click here for the latest coronavirus advice from the NHS >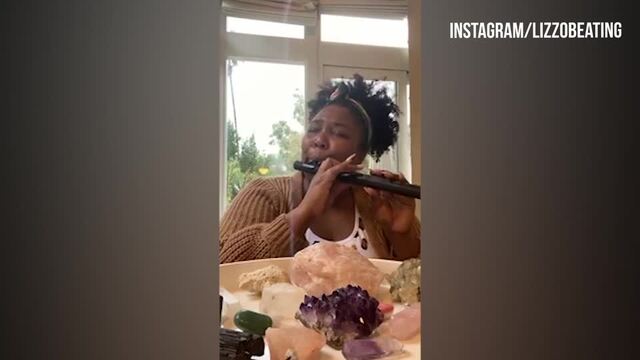 Lizzo plays the flute and guides a meditation to 'promote healing during this global crisis'
He's grabbed the patchwork of famous faces putting their lo-fi spin on Lennon, and added a band backing – a bit of drums and keys to sure the whole thing up.
He's cleverly adapted to the celebs' harmonies, where they move rather suddenly, into crunchy, jazz-worthy progressions. The celebrities, thanks to Cornell, are not – it turns out – modulating crudely by accident, but rather have coordinated to create modulations that only the most avant garde jazz aficionado would be able to dream up.
We applaud them for inadvertently making music of such mind-bending complexity, and we applaud Cornell for tying it all together with his sensitive keyboard accompaniment and soulful drum beats.
No imagination needed.