Bees have set up a hive inside this cello
4 July 2019, 16:41
There are 20,000 honey bees living inside this reclaimed cello – and it's all part of a musical project by a university professor.
Martin Bencsik, a professor from Nottingham Trent University, has encouraged a swarm of bees to set up hive inside his cello.
Bencsik, whose wife is a professional cellist, has used the reclaimed instrument to research vibrations and sounds made by bees.
At the end of the project, Bencsik will record the noises in order to create a musical soundscape, which will culminate in a performance later this year. He hopes his project will raise awareness about the decline of the pollinating insects.
"Bees need a cavity," he told the BBC. "We have run out of enough hollow trees in this country for them to make a good living, and it feels like a sacrifice to give honey bees such a beautiful, splendid object for them to develop."
The cello currently stands in Dr Bencsik's garden in West Bridgford, where he often sits and watches the bees at work.
"When we put them in the cello, they all crawl up to the very top and they start building their structure, the honeycomb, from the top and they make their way down.
"Within a few weeks, the entire cello will be full of honeycomb."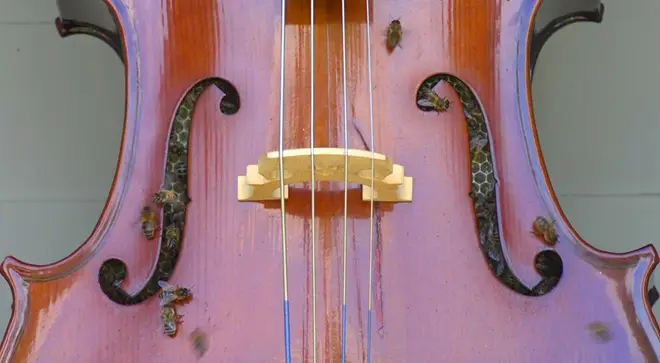 Bencsik, whose father was a beekeeper, admits he used to hate the insects because they stung him. But for the last ten years, he has enjoyed spending his working life researching honey bees.
"I can sit here and watch the bees in the cello for hours. I don't need a beer or wine, I just need to watch my bees in the cello and I am absolutely satisfied."