All Blacks rugby player Richie Mo'unga showcases piano talent in viral video
26 September 2019, 11:50 | Updated: 26 September 2019, 12:14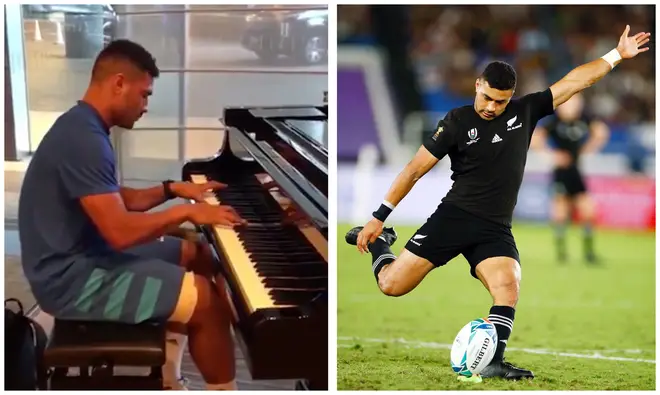 All Blacks rugby star Richie Mo'unga shows his talents aren't just limited to the pitch... watch his piano rendition of Beyoncé's 'Halo' below.
Richie Mo'unga, a first five-eighth in New Zealand's rugby team, the All Blacks, has been showcasing his piano skills in between matches at the 2019 Rugby World Cup.
The 25 year old played a rendition of 'Halo' in the video shared on the All Blacks' Instagram account yesterday (25 September).
The clip was captioned: "Who knew @richiemounga and @atunaisamoli_ were so talented… #BACKBLACK."
In a second video, Mo'unga's teammates all band together in a spontaneous piano jam, with Wing Sevu Reece conducting their group rendition of 'Chopsticks'.
New Zealand band, Six60, commented on the post: "Maybe it's time for a collab in Japan", to which the All Blacks replied: "As you can see we've been practising."
Adidas Rugby also joined the comments, adding: "The creativity never stops #CreatorsUnite."
Following their win against South Africa last Saturday, the All Blacks will be facing Canada next Wednesday in the next stage of the Rugby World Cup 2019.