Leading Ukrainian ballet dancer of the Odesa Opera House killed in combat
25 April 2023, 12:48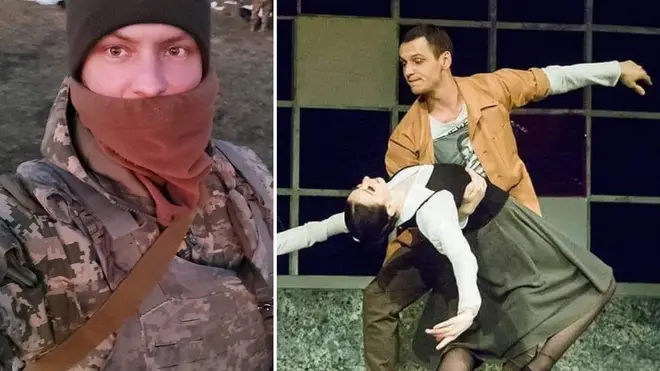 The dancer was killed just a month before what would have been his 32nd birthday.
A star Ukrainian ballet dancer, who took up arms just days after the conflict in his country started in 2022, was killed in combat last week during a mortar attack.
Rostyslav Yanchyshen was a 31-year-old former dancer of the Odesa Opera and Ballet Theater and just a month away from turning 32, when he was killed on Wednesday 19 April.
The Odesa Opera shared the news of his death on their Facebook page on the evening of Thursday 20 April, leading with the statement, "Forever [31-years-old]. War takes the best of us."
Harry Sevoyan, the head of the Odesa Opera House's ballet troupe described Yanchyshen as a "light, talented, decent, intelligent man".
"He was one of the first to go to defend the Motherland!" Sevoyan added. "Not by order, but by his own decision, by his heart's calling and by awareness of his patriotic mission."
Read more: Ukraine orchestra and chorus perform 'Va, Pensiero' outside opera house in powerful cry for peace
🇷🇺 invaders killed Rostyslav Yanchyshen, a ballet dancer of #Odesa Opera & Ballet Theater. In 2022 he volunteered for the Territorial Defense Force & bravely defended our land. His death is a big loss both for the army & 🇺🇦 culture that 🇷🇺 wants to destroy. However, we will win. pic.twitter.com/B9thmqTxZJ

— Emine Dzheppar (@EmineDzheppar) April 22, 2023
As a young adult, Yanchyshen received choreographic training at the Kyiv Art University before joining the Odesa Opera and Ballet Theater, where he danced for over 10 years.
Numerous members of Ukraine's artistic community have mourned the loss of the dancer, including the folk singer, Khrystyna Soloviy.
Sharing a video of Yanchyshen dancing to one of her songs, the 30-year-old singer wrote on Facebook, "It is so painful now to watch this beautiful dance to my song.
"In the video, you see Odesa Opera and Ballet Theatre dancer Rostyslav Yanchyshen. He died in the war a short time ago."
Read more: 'Dance for Ukraine' – world's finest Ballet Principals come together in show of solidarity
Боляче зараз дивитися на цей прекрасний танець під мою пісню. На відео артист театру Одеської опери та балету - Ростислав Янчишен. Днями він загинув у війні.  Хочу, аби про нього не забули. Хочу, аби весь світ знав! На захист України стає цвіт її нації. Найкращі з людей. І це добре знає ворог. Росіяни продовжують свою криваву розправу вже третє століття поспіль лише за те, що ми є. Можна відібрати дім, змусити жити в темряві, можна навіть ціле покоління примусити думати, що у нас один «язик». Але ніколи! Не знищити українську націю й українську культуру. Не вийняти з неї душу! Слава Україні!

Posted by Христина Соловій on Saturday, April 22, 2023
Soloviy continued, "I don't want him to be forgotten. I want the whole world to know! The best of the nation stands in defence of Ukraine. The best people. And the enemy knows this well. The Russians continue their bloody massacre for the third century in a row just because we exist.
"You can take away our home, force us to live in the dark, you can even force a whole generation to think that we have one 'language'. But this is not so!
"You cannot destroy the Ukrainian nation and Ukrainian culture. You cannot take the soul out of her! Glory to Ukraine!"