Tina Fey is turning the Mean Girls Broadway musical into a movie
24 January 2020, 11:01 | Updated: 24 January 2020, 11:08
That teen comedy that started as a film, and was made into a musical? Well, now it's being made… back into a film. Here's everything you need to know about the 'Mean Girls' movie musical.
Paramount Pictures has announced it will be releasing a new musical movie adaptation of the popular Broadway production, Mean Girls.
The teen comedy tells the story of sixteen-year-old Cady Heron, who moves from Africa to the suburbs of Illinois with her scientist parents – but she soon gets caught up in the drama of a popular high school clique, known as 'The Plastics'.
Mean Girls first hit our screens in 2004, featuring actresses Lindsay Lohan, Rachel McAdams and Ana Gasteyer, and ranked number one at the box office in its opening weekend.
Canadian-American writer and comedian Lorne Michaels wrote the original film script – and now he will be returning once again with screenwriter Tina Fey – who wrote the book for the Tony-nominated Broadway show – to produce the all-singing, all-dancing version.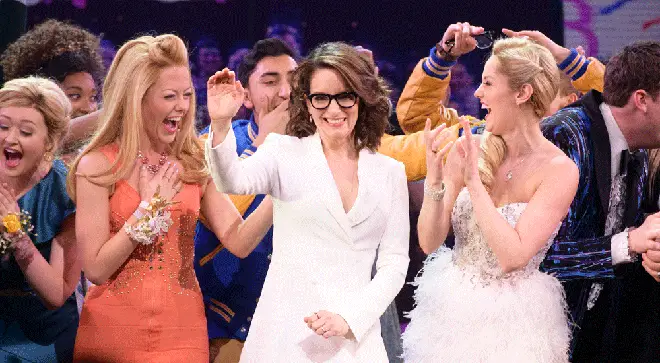 Joining them on the project will be American composer Jeff Richmond, who is scoring the adaptation, while Neil Benjamin – best known for his recent work on the Broadway hit Legally Blonde – will write the lyrics.
The news comes as producers for the Broadway show are in final talks for the cast to make their way over to London's West End in 2021.
Fey said she is "very excited to bring Mean Girls back to the big screen".
"It's been incredibly gratifying to see how much the movie and the musical have meant to audiences," she added in a statement. "I've spent 16 years with these characters now. They are my Marvel Universe, and I love them dearly."
Michaels, the movie musical's producer, added: "It has been a joy to work on Mean Girls and to watch it go from film, to musical, and now to musical film.
"I am very proud that Tina's story and characters continue to resonate with new generations. We are all excited to continue to work with Sonia Friedman and her team as we prepare for London."